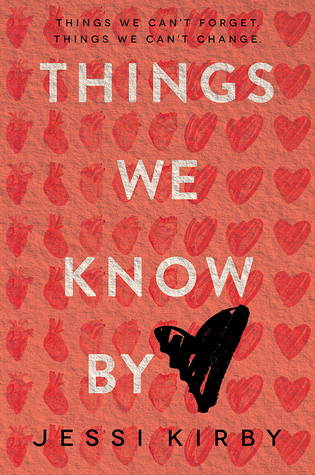 Things We Know By Heart by Jessi Kirby
Publisher: HarperCollins
Release Date: April 21st, 2015
Source: Netgalley
Date Read: 4/22/15 to 4/26/15
304 pages
Rating:

✰
✰
✰
✰
When Quinn Sullivan meets the recipient of her boyfriend's donated heart, the two form an unexpected connection.

After Quinn loses her boyfriend, Trent, in an accident their junior year, she reaches out to the recipients of his donated organs in hopes of picking up the pieces of her now-unrecognizable life. She hears back from some of them, but the person who received Trent's heart has remained silent. The essence of a person, she has always believed, is in the heart. If she finds Trent's, then maybe she can have peace once and for all.

Risking everything in order to finally lay her memories to rest, Quinn goes outside the system to track down nineteen-year-old Colton Thomas—a guy whose life has been forever changed by this priceless gift. But what starts as an accidental run-in quickly develops into more, sparking an undeniable attraction. She doesn't want to give in to it—especially since he has no idea how they're connected—but their time together has made Quinn feel alive again. No matter how hard she's falling for Colton, each beat of his heart reminds her of all she's lost…and all that remains at stake.
Goodreads | Amazon | B&N | Book Depository
Again, I have been blown away by Jessi Kirby. I have read her other novel, Golden, and it just affected me so personally, so of course I just HAD to request Things We Know By Heart. Did it pull on my heartstrings? Yes. Did I relate to it? No but that's understandable.
Quinn recently lost her boyfriend, Trent, and she's heartbroken about it. But because Trent was an organ donor, Quinn was able to meet and write letters to all the recipients, all except for the recipient of Trent's heart, who remains anonymous. That is, until she finds the anonymous recipient through his sister's blog, which details his hospital trips in each post.
AND THEN THEY START HANGING OUT. And you can guess what happens next haha. But still, sadness.
Colton has suffered a lot, especially with his heart problems. The new heart he receives from the donor helps a lot, even though everyone around him still worry about him. And of course, Quinn just lost her boyfriend of pretty much forever. So in other words, heartbreak brings people together. But of course neither of them tell the other their secret.
So, even though the story itself is slightly predictable, the romance itself is sweet and slow. And KAYAKING. ON THE OCEAN. And discovering COOL CAVES. Ok truthfully only one really cool water cave. BUT STILL.
This would be a cool place to go. THIS IS WHAT I IMAGINE.
The only problem I had was that a lot of the story was "tell and not show". Like there was a specific conversation between Quinn and her sister that I wanted, but it was only described rather than drawn out in dialogue. And I really wanted to see her sister's reaction for myself.
I loved Things We Know By Heart, it's a very emotional tearjerker, even though it is slightly predictable.