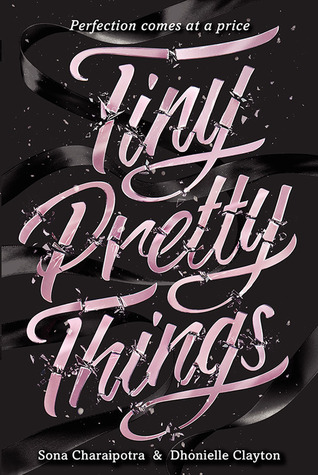 Tiny Pretty Things by Sona Charaipotra and Dhonielle Clayton
Publisher: HarperTeen
Release Date: May 26th, 2015
Source: Edelweiss
Date Read: 5/23/15 to 5/25/15
448 pages
Black Swan meets Pretty Little Liars in this soapy, drama-packed novel featuring diverse characters who will do anything to be the prima at their elite ballet school.




Gigi, Bette, and June, three top students at an exclusive Manhattan ballet school, have seen their fair share of drama. Free-spirited new girl Gigi just wants to dance—but the very act might kill her. Privileged New Yorker Bette's desire to escape the shadow of her ballet star sister brings out a dangerous edge in her. And perfectionist June needs to land a lead role this year or her controlling mother will put an end to her dancing dreams forever. When every dancer is both friend and foe, the girls will sacrifice, manipulate, and backstab to be the best of the best.
Goodreads | Amazon | B&N | Book Depository
After finishing Tiny Pretty Things, I've come to wonder whether all ballerinas are like this, whether they are all super competitive. There is so much drama, tons of it, and why do these girls just keep harassing each other?
The chapters alternate between Gigi, the new girl in New York from California, Bette, the girl who has everything, and June, the perfectionist. Gigi is new and the only black ballet dancer in the Academy, and even so she has been casted the lead roles in both The Nutcracker and Giselle. Bette, having everything being taken away from her, including her boyfriend Alec, by Gigi, starts bullying Gigi. And then June, who is half-asian (!!) does the same because her mom is threatening to take her out of the Academy, since all she's been getting are understudy roles.
Did I mention how much drama there was in this? Does this actually happen in companies or I guess in ballet academies such as this one? Some of the things that happened to Gigi were horrible, yet to be honest I understood the jealousy that June and Bette had for her. Though honestly this is why the lead role should never go to the same person!
Even though I loved the diversity, there wasn't much going on plot wise. It was the same harassment, and it was sad to see Gigi slowly go a little crazy because of all the girls plotting against her. And no one was friends with anyone, or at least they pretended to be friends. Ha.
To make it clear, the only reason I rated this as 3 stars is because I'm not such a huge fan of drama. And I hate reading about bullying. And someone really needs to enlighten me about ballet, because this is just scary if some of these things are accurate and actually happen.