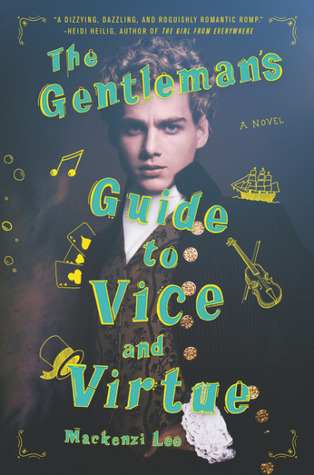 The Gentleman's Guide to Vice and Virtue by Mackenzi Lee
Publish
er: Katherine Tegen Books
Release Date: June 27th, 2017
Source: Edelweiss
Date Read: 5/26/17 to 6/28/17
528 pages
An unforgettable tale of two friends on their Grand Tour of 18th-century Europe who stumble upon a magical artifact that leads them from Paris to Venice in a dangerous manhunt, fighting pirates, highwaymen, and their feelings for each other along the way.

Henry "Monty" Montague was born and bred to be a gentleman, but he was never one to be tamed. The finest boarding schools in England and the constant disapproval of his father haven't been able to curb any of his roguish passions—not for gambling halls, late nights spent with a bottle of spirits, or waking up in the arms of women or men.

But as Monty embarks on his grand tour of Europe, his quest for a life filled with pleasure and vice is in danger of coming to an end. Not only does his father expect him to take over the family's estate upon his return, but Monty is also nursing an impossible crush on his best friend and traveling companion, Percy.

Still it isn't in Monty's nature to give up. Even with his younger sister, Felicity, in tow, he vows to make this yearlong escapade one last hedonistic hurrah and flirt with Percy from Paris to Rome. But when one of Monty's reckless decisions turns their trip abroad into a harrowing manhunt that spans across Europe, it calls into question everything he knows, including his relationship with the boy he adores.
I received this ARC in exchange for an honest review. Quotes taken from ARC may or may not be in the published edition.
Woo this book clearly took a long time to get through. And then it's pretty much been a month since I finished it, and here I am, trying to write a review. I haven't written a review in ages it seems like.
Honesty time. When I started Gentleman's Guide, I wasn't quite into it. I wasn't keen on the setting, because for some reason I am not a fan of historical Europe? Or at least France? I mean I keep replaying Assassin's Creed Unity, which takes place during the French Revolution, and I can never seem to finish it. Now I'm having doubts though. Did this book take place in France? Part of it did, I'm pretty sure.
Yet, this clearly grew on me. I came to appreciate the characters, like Monty, his sister Felicity, Percy, and their developments, which really is the best I've read in a while. Maybe this entire year. Though if you do pick up this book, just a warning that the beginning is a bit boring. The pace is a bit slow as we learn that Monty, his sister Felicity, and Percy are all going on tour to France. And I'm like, "great, that's it?" I really judged wrong, guys. Or at least too soon.
But as the novel further progressed, BAM, the plot appeared (thank you
Aila
for pushing me through via her review). I'm not sure
why
I didn't expect any adventure, but yes there are pirates, highwaymen, a seemingly impossible quest, ALCHEMY, and all around fun. Looking back from this point, the book was actually very nicely paced. I, as usual, was just being impatient (again).
Overall, very glad I requested this. And read it. I did read This Monstrous Thing last year by the same author, and I can definitely tell that her writing has improved tremendously (or maybe this just interested me more than the story of Frankenstein? Sorry) No, it's definitely the former. The dialogue in Gentleman's Guide is much more fleshed out, and of course, has so much more humor. Yay!
Bottom line. Highly recommend! Even if it does seem a bit daunting.