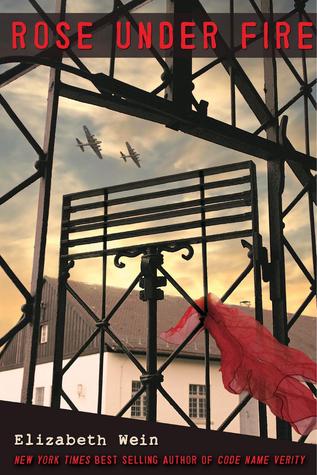 Rose Under Fire by Elizabeth Stein
Companion Book to Code Name Verity
Publisher:

Disney Hyperion
Release Date:

September 10th, 2013
Source: Library
Date Read: 6/20/14 to 6/26/14
368 Pages
Rating:
✰
✰
✰
✰
✰
While flying an Allied fighter plane from Paris to England, American ATA pilot and amateur poet, Rose Justice, is captured by the Nazis and sent to Ravensbrück, the notorious women's concentration camp. Trapped in horrific circumstances, Rose finds hope in the impossible through the loyalty, bravery and friendship of her fellow prisoners. But will that be enough to endure the fate that's in store for her?

Elizabeth Wein, author of the critically-acclaimed and best-selling Code Name Verity, delivers another stunning WWII thriller. The unforgettable story of Rose Justice is forged from heart-wrenching courage, resolve, and the slim, bright chance of survival.
Goodreads
|
Amazon
|
B&N
|
Book Depository
Congratulations Elizabeth Wein, for writing another fabulously heart-wrenching story about friendship that literally tore me apart. I don't know why I keep reading your depressing books. Why do I enjoy such sad writing?
Rose Under Fire is the companion novel, and I guess the sequel to Code Name Verity. Instead of Verity, we have Rose Justice, and American pilot from Pennsylvania staying in Europe to help with the war. Like Maddie (who we get to see again!), Rose is part of the ATA, or Air Transport Auxiliary. She basically taxis people from different places. After begging her uncle to set up a route to France, she finally gets her chance after Paris is liberated. But instead of coming back safe and sound, she ends up captured by the Germans, and sent to Ravensbruck, the notorious concentration camp for women.
I found Rose to be very relatable,
because Rose is an American. She knows there's a war going on, but it never affected her and her family. During her time at the camp, she comes to realize that some of these people have a hard time remembering what it was like before. Yet even though she's somewhat out of the loop, she was still able to find a family within the group called the "Rabbits", a group of women that were experimented on for "research".
Not only does Rose Under Fire realistically portray the lives of the women living in Ravensbruck, the concentration camp in Germany for women, it also shows how important relationships can be in times of desperation. I
absolutely loved
all the "side characters" (I don't view them as side characters though). There's Rozayczka, or Roza, the Polish prisoner that later goes on to be Rose's best friend. Then Irina, a fighter pilot for the Soviets. Lisette, the camp mother of the family. And then lastly Karolina, the girl who always wanted to be a filmmaker. And then even though there were more side characters,
I still remember each and every one of them.
When I told anyone at the Camp who I was, I'd say, "I'm Rose Justice. I'm a pilot."
When Roza first told me who she was, she'd said, "I'm Polish Political Prisoner 7705. I'm a Rabbit."
Rose Under Fire, for me, was easier to read than Code Name Verity. CNV had a bunch of plane terminology that I wasn't familiar with in the beginning. However, in Rose Under Fire, the details were more spread out and also weaved in with the dialogue.
The amount of detail and research put into this book is incredible.
I loved how the author managed to fit it all, while keeping me engaged and not bored.
And also, ROSE'S POEMS! They are scattered throughout the novel and I loved them!
On another note, Rose Under Fire actually didn't make me cry (but still, so many feels). It is depressing though, like you could tell with Rose's journal entries that she completely transformed from before the concentration camp to after she got back. That aspect really hit hard for me. Her writing used to be spunky and happy, like a normal teenage girl,
like my writing
, and then it become more sullen and realistic.
This book definitely deserves 5 stars, maybe even more than that. Every time I wasn't reading this, I caught myself thinking about what was going to happen next to Rose and her new family. And how was she going to escape?
This book is an eye opener to what really happened in the concentration camps during WWII
, especially since the author wrote most of the story based on eyewitness accounts. I definitely recommend this to
anyone interested in WWII
everyone
.