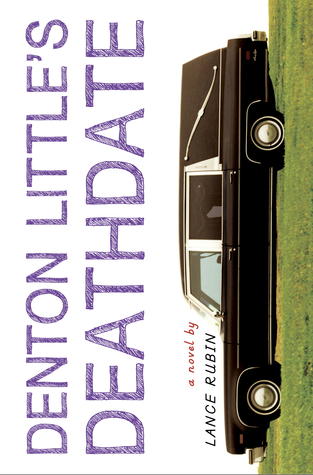 Denton Little's Deathdate by Lance Rubin
Publisher:

Knopf Books for Young Readers
Release Date:

April 14

th

,

201

5
Format

: L

i

brary
Date Read:

8

/

11

/15 to 8/13/15
3

52

pages
Denton Little's Deathdate takes place in a world exactly like our own except that everyone knows the day they will die. For 17-year-old Denton Little, that's tomorrow, the day of his senior prom.

Despite his early deathdate, Denton has always wanted to live a normal life, but his final days are filled with dramatic firsts. First hangover. First sex. First love triangle (as the first sex seems to have happened not with his adoring girlfriend, but with his best friend's hostile sister. Though he's not totally sure. See: first hangover.) His anxiety builds when he discovers a strange purple rash making its way up his body. Is this what will kill him? And then a strange man shows up at his funeral, claiming to have known Denton's long-deceased mother, and warning him to beware of suspicious government characters…. Suddenly Denton's life is filled with mysterious questions and precious little time to find the answers.

Debut author Lance Rubin takes us on a fast, furious, and outrageously funny ride through the last hours of a teenager's life as he searches for love, meaning, answers, and (just maybe) a way to live on.
Goodreads | Amazon | B&N | Book Depository
I'm going to be honest, I never really considered reading this until I saw it at the library. And then I thought, "Wait this is about death, right". You see, I loved the Machine of Death anthology, where the manner of your death is spit out by a machine. But in this book, it's the time of death that you have to prepare for. So obviously after I found this out, I was going to pick this up ASAP.
Denton is due to die when he's 17 years old, on the day of prom. And you would think that since it's practically YOUR day, you can do whatever you want. But that ends up not being the case. Instead, You get to 1) attend your own funeral, 2) write your own eulogy, and 3) even sit with your family and friends on your day of death. Where is all the fun, crazy last days? Like whut?
Now I'm going to be completely honest with you, because I don't remember the minor characters (sorry I should take notes more often). All I know is that I loved Denton. At first, he didn't mind that he was dying so early. But then as his day gets closer and closer, you can see him just breaking apart. And as fun this novel is, I have to say it was sad to see that happen.
And what exactly is going to kill Denton anyways? Is it his girlfriend's psychotic ex-boyfriend? A car accident? Or maybe that huge purple splotch that's slowly spreading throughout his entire body. Gross. Either way,
I did not really see that coming,
even though I did already predict the conclusion of the story. I mean come on now.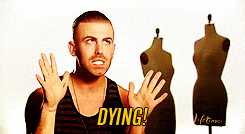 Did I mention how fun this novel is though? Sure, it's a book about death, but it's a funny book about death. I know it seems weird and contradicting, but just trust me on this one
I didn't really have any gripes with this one, it's a four star read mainly because it doesn't have the "POP" that I think it should have. Sure, Denton's going to die and hilarity ensues, though, oh I don't know. It's very clear that the author wants the reader to pity Denton, especially when he ends up having a mental breakdown at his own funeral.
Overall, I think I was more interested in the whole situation of knowing your death date. I loved the fact that people tried to avoid dying by locking themselves in a room or not doing anything the entire day. The author really did a good job in that regard, and because of that, I enjoyed the book a ton.
(By the way, it's actually Denton Little's Deathdate, in that "Little" is his last name. It's weird because I can never see it that way, and I always end up pronouncing it as "Denton's Little Deathdate" instead)