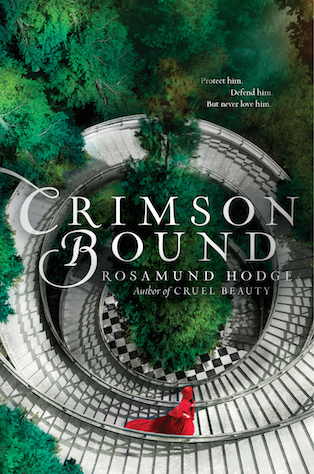 Crimson Bound by Rosamund Hodge
Publisher: Balzar + Bray
Release Date: May 5th, 2015
Source: Edelweiss
Date Read: 5/4/15 to 5/8/15
448 pages
Rating:

✰
✰
✰
✰
When Rachelle was fifteen she was good—apprenticed to her aunt and in training to protect her village from dark magic. But she was also reckless— straying from the forest path in search of a way to free her world from the threat of eternal darkness. After an illicit meeting goes dreadfully wrong, Rachelle is forced to make a terrible choice that binds her to the very evil she had hoped to defeat.

Three years later, Rachelle has given her life to serving the realm, fighting deadly creatures in an effort to atone. When the king orders her to guard his son Armand—the man she hates most—Rachelle forces Armand to help her find the legendary sword that might save their world. As the two become unexpected allies, they uncover far-reaching conspiracies, hidden magic, and a love that may be their undoing. In a palace built on unbelievable wealth and dangerous secrets, can Rachelle discover the truth and stop the fall of endless night?

Inspired by the classic fairy tale Little Red Riding Hood, Crimson Bound is an exhilarating tale of darkness, love, and redemption.
Goodreads | Amazon | B&N | Book Depository
Wow. Wow. I honestly wasn't expecting such an amazing, well-detailed book. Like I felt like I was thrown into a fairy tale, A REAL FAIRY TALE. With action and no overbearing romance. Honestly, I felt that this was a much more mature YA, and that itself was really refreshing.
Crimson Bound definitely shows signs of being based off of Red Riding Hood, especially the beginning, but other than that, everything else is just so different. When I first started reading, I was thrown into a whole new world and I wasn't expecting it at all. Rachelle, our little Red Riding Hood, makes the wrong choice as a child to approach a forestborn without any protection. And so she gets marked, and if she doesn't kill another human in three days then she will die.
Rachelle almost reminds me of Celaena from Throne of Glass, but a more hardened version of her. Rachelle tries so hard to keep the daylight from ending, but every attempt she makes at finding the two swords that are used to defeat the Devourer. In the end she's kind of worn out and has lost hope for the world.
The one thing I love but also hated was how the reader is just thrown into the world with no explanation. In the beginning, I was confused at what exactly a bloodborn was, and a forestborn, what the difference was, why the heck daylight was ending, and who in the heck Zisa and Tyr were from the fable/myth in some of the chapters, and what that had to do with anything. Fortunately, everything was explained over time, and not in a info-dumpy manner.
Also, that twist at the end, was awesome and so incredibly unpredictable. I'm really impressed with my first book by Rosamund Hodge, and I'm even more excited to read Cruel Beauty now, BECAUSE HER WRITING! It was just gorgeous. I don't think there's any other way to describe it. Plus I'm glad that this was on the more mature end of the spectrum.