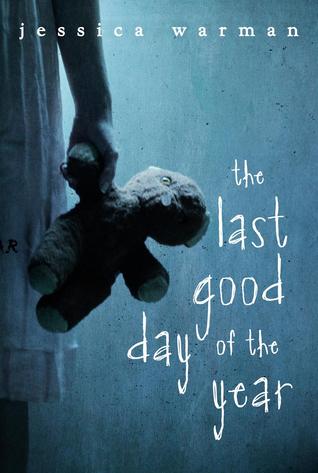 The Last Good Day of the Year by Jessica Warman
Publisher: Bloomsbury USA Children's
Release Date: May 19th, 2015
Source: Netgalley
Date Read: 5/14/15 to 5/16/15
288 pages
Rating:

✰
✰
✰
1/2
Ten years ago, in the early hours of New Year's Day, seven-year-old Samantha and her next door neighbor, Remy, watched as a man broke into Sam's home and took her younger sister, Turtle, from her sleeping bag. Remy and Sam, too afraid to intervene at the time, later identified the man as Sam's sister Gretchen's much older ex-boyfriend, Steven, who was sent to prison for Turtle's murder.

Now, Sam's shattered family is returning to her childhood home in an effort to heal. As long-buried memories begin to surface, Sam wonders if she and Remy accurately registered everything they saw. The more they re-examine the events of that fateful night, the more questions they discover about what really happened to Turtle.

Master storyteller Jessica Warman keeps readers guessing in this arresting page-turner.
Goodreads | Amazon | B&N | Book Depository
The creepy teddy bear on the cover does not lie about the contents of this book. This is definitely one book where the cover accurately portrays its creepiness. Sure, it isn't a gory mess, but anything involving stalkers in Santa costumes tends to creep me out a bit.
I'm just going to go straight to what started it all, the abduction. Samantha Early, at age 7, spends a lot of time with her best friend Remy, and her little sister Turtle (Tabitha), who she may or may not love fully. One Christmas Eve, a man dressed up as Santa Claus enters through the screen door, and with both Remy and Sam watching, he kidnaps Turtle right under their noses. It isn't until 10 minutes later they have the courage to confront their parents during the Christmas Party.
YEAH. CREEPY RIGHT? Basically this story is a mystery and a thriller in one. It jumps ahead 10 years into the future, where Sam has a new little sister, Hannah, and Turtle has been deemed dead. She was never found, however, there is a suspect. One who had been wearing a Santa suit that evening. However, is he truly the culprit? According to witnesses, he was only unaccounted for an hour. Is that enough time to hide a child from everyone?
There is a lot of figuring out in the story. And honestly, I didn't really find the twist to be that much of a plot twist, just because it wasn't a character I really knew or cared about. However, the ending and the way the culprit was watching everyone was very, very creepy (But I won't spoil it for you). WHY DO PEOPLE KIDNAP CHILDREN? AND MURDER THEM? WHY?
And the jumping back and forth between the past and the present was pretty random. I'm not sure if it was because I didn't pay attention to the dates, but at one point I thought something was taking place in the present, but actually it was taking place in the present. And that was just hard to process. But more importantly, there really wasn't any closure. And I guess that is the point of the novel, but I need my closure!
To be honest I thought this book was going to be bad, but I ended up liking it more than I did! This really was a page turner, and I really wanted to know what happened and who the abductor was really. Sadly we never get the whole story, but you get what you get.