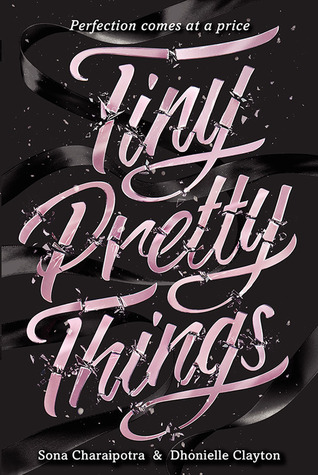 Tiny Pretty Things by Sona Charaipotra & Dhonielle Clayton
Publisher: HarperCollins
Release Date: May 28th, 2015
Black Swan meets Pretty Little Liars in this soapy, drama-packed debut novel featuring diverse characters who will do anything to be the prima at their elite ballet school.

Gigi, Bette, and June, three top students at an exclusive Manhattan ballet school, have seen their fair share of drama. Free-spirited new girl Gigi just wants to dance—but the very act might kill her. Privileged New Yorker Bette's desire to escape the shadow of her ballet star sister brings out a dangerous edge in her. And perfectionist June needs to land a lead role this year or her controlling mother will put an end to her dancing dreams forever. When every dancer is both friend and foe, the girls will sacrifice, manipulate, and backstab to be the best of the best.
Goodreads | Amazon | B&N | IndieBound

Hey guys! I'm here to basically just spread the word about Tiny Pretty Things, and showcase this amazing giveaway the authors and publishers are hosting through Rafflecopter!

One of the reasons I am very excited to read this is 1) it's about ballet, and even though I don't seem like the type that would like it, I actually DO like reading about it. I used to take ballet classes when I was younger, I mean who didn't hahah. And also 2) the cover for Tiny Pretty Things is gorgeous! It really caught my eye while I was scrolling through Edelweiss.

And with that, I hope you guys enter the giveaway!