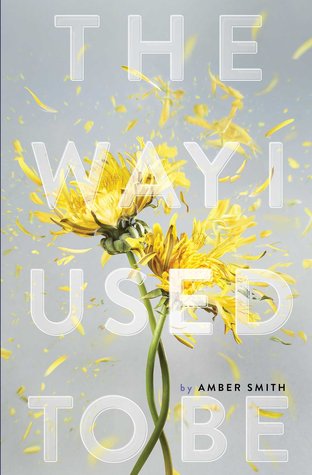 The Way I Used To Be by Amber Smith
Publish
er: Margaret K. McElderry Books
Release Date: March 22nd, 2016
Source: ALA Midwinter
Date Read: 3/20/16 to 3/23/16
384 pages
Eden was always good at being good. Starting high school didn't change who she was. But the night her brother's best friend rapes her, Eden's world capsizes.

What was once simple, is now complex. What Eden once loved—who she once loved—she now hates. What she thought she knew to be true, is now lies. Nothing makes sense anymore, and she knows she's supposed to tell someone what happened but she can't. So she buries it instead. And she buries the way she used to be.

Told in four parts—freshman, sophomore, junior, and senior year.
I received this ARC in exchange for an honest review. Quotes taken from ARC may or may not be in the published edition.
Oh, this is an incredibly hard review to write. Not because I didn't like it, but because it was on the subject of rape. I do not think I can review this
properly,
seeing as I have never experienced such a situation.
Once upon a time, when I was in 6th grade, I read this book called
Speak
. And at that time, I didn't get it.
Speak
was the first novel I read that tackled the issue of rape and it shocked me because I didn't know that something that horrendous could happen in real life.
Well, now I do.
And that's where The Way I Used To Be comes along, because we actually feel the frustrations of Eden. It really isn't surprising that many rape victims today keep quiet about the crime. Because who would believe them? Or so they've been told. Eden is put in this
same situation
when her brother's best friend, and family friend really, comes into her room in the middle of the night, and rapes her. When she's
15 years old
.
It's really heartbreaking.
And throughout the entire story, we have to watch Eden transform into someone she isn't. Watching her struggle for
four years
hurts, especially with this huge weight bearing down on her.
And here is why I can't review or really criticize the novel. My frustrations with the main character feel invalid. I do not know how it feels to be raped at such a young age. How can I criticize her for not saying anything, when millions of other women suffering from abuse or rape are struggling to say anything either?
The Way I Used To Be isn't easy to read at all. You will be frustrated at Eden. You will be frustrated at her friends and how they slut-shame her at times. You will be frustrated at how she copes with it all. And you will definitely, most likely be frustrated at how she handles her relationships.
Yet even with its frustrating moments, The Way I Used To Be is an eye-opening read that I recommend to everyone.