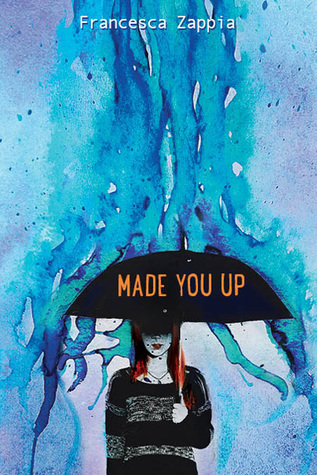 Made You Up by Francesca Zappia
Publisher: Greenwillow Books
Release Date: May 19th, 2015
Source: Edelweiss
Date Read: 5/21/15 to 5/23/15
448 pages
Reality, it turns out, is often not what you perceive it to be—sometimes, there really is someone out to get you. Made You Up tells the story of Alex, a high school senior unable to tell the difference between real life and delusion. This is a compelling and provoking literary debut that will appeal to fans of Wes Anderson, Silver Linings Playbook, and Liar.




Alex fights a daily battle to figure out the difference between reality and delusion. Armed with a take-no-prisoners attitude, her camera, a Magic 8-Ball, and her only ally (her little sister), Alex wages a war against her schizophrenia, determined to stay sane long enough to get into college. She's pretty optimistic about her chances until classes begin, and she runs into Miles. Didn't she imagine him? Before she knows it, Alex is making friends, going to parties, falling in love, and experiencing all the usual rites of passage for teenagers. But Alex is used to being crazy. She's not prepared for normal.




Funny, provoking, and ultimately moving, this debut novel featuring the quintessential unreliable narrator will have readers turning the pages and trying to figure out what is real and what is made up.
Goodreads | Amazon | B&N | Book Depository
I'm not going to lie, but I was immediately pulled into the prologue, you know why? Because it talked about FREEING THE LOBSTERS FROM THE TANK AT THE SUPERMARKET, and that's when I knew this was going to be the best book ever. And I was not wrong. NOT WRONG AT ALL.
Made You Up has everything. It has humor, it has fully developed characters, it even has a freaking mystery surrounding the school, AND more importantly of course, it has all the feels.
Alex has schizophrenia. She's paranoid of everything, and constantly takes photos to see what's real and what isn't. She got kicked out of her old high school, and now has to attend East Shoal, with its rich uniformed kids and an after school club that she MUST attend because of community service work.
BUT THEN COME MILES. The boy that she believes helped her free all the lobsters (though she thought he wasn't even real!) Though he's quite the jerk, and ALSO IS GERMAN (my heart), but underneath his cold exterior, he's a pretty nice guy. Though a little dense.
BRING IN THE DANCING LOBSTERS
I am completely in love with the hate then love trope. I honestly loved how perfect the dynamics were between Alex and Miles, and how dense the both of them were (Alex a little less dense, hahah). The best part was that this wasn't focused solely on the romance. There's the mystery surrounding the school principal and the glorified school scoreboard. And there's the deal with Celia, the "school bully" and her involvement with said principal. And of course, Alex's schizophrenia, which serves as an unreliable narrator. Seriously, you will not know what is real or not until she figures it out for herself.
This is definitely one of my new favorites of 2015. It is SO WELL DONE, especially with the unreliable narrator. I seriously suggest picking it up right now, I am not kidding.