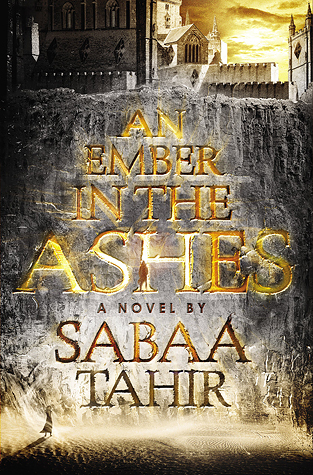 An Ember in the Ashes by Sabaa Tahir
Publisher: Razorbill
Release Date: April 28th, 2015
Source: Physical
Date Read: 7/22/15 to 7/24/15
446 pages
Laia is a slave.

Elias is a soldier.

Neither is free.

Under the Martial Empire, defiance is met with death. Those who do not vow their blood and bodies to the Emperor risk the execution of their loved ones and the destruction of all they hold dear.

It is in this brutal world, inspired by ancient Rome, that Laia lives with her grandparents and older brother. The family ekes out an existence in the Empire's impoverished backstreets. They do not challenge the Empire. They've seen what happens to those who do.

But when Laia's brother is arrested for treason, Laia is forced to make a decision. In exchange for help from rebels who promise to rescue her brother, she will risk her life to spy for them from within the Empire's greatest military academy.

There, Laia meets Elias, the school's finest soldier—and secretly, its most unwilling. Elias wants only to be free of the tyranny he's being trained to enforce. He and Laia will soon realize that their destinies are intertwined—and that their choices will change the fate of the Empire itself.
Goodreads | Amazon | B&N | Book Depository
Well what do you know? I actually ended up reading An Ember in the Ashes! I bought it right when it came out, and just now I have read and loved it. Of course, it isn't without its flaws, and it doesn't completely live up to my expectations.
Is it instalove? I think yes.
Or at least insta-attraction, which I do understand, so I feel like a hypocrite for saying this. But let me back up, we have Laia, a slave girl who is actually working for the Resistance. And then we have Elias, who is kind of a sympathizer to the slaves and such. And just to everyone actually. He's not a heartless "mask" like everyone at Blackcliff, the military academy.
Though really, their meeting is basically "eyes meeting, guy thinks girl is beautiful, girl looks away and is confused" and it transitions to "guy tries to help out girl because he can't stop thinking about her". To be honest, I feel like the book would've been better off without their attraction.
Inspired by Ancient Rome? Uh eh.
For one, I could've sworn this was based off of Greek or Roman culture, but that's not really the case here. Actually, I couldn't help but notice a lot of similarities between this and
Red Rising.
For one, there's an oppressed group of people, the main character is a spy, the situation itself is bleak, but in the end everything pulls through.
Honestly, during some points in the novel I could not keep reading because the bleakness of the situation was really putting me off. The Commandment makes Queen Levana from
The Lunar Chronicles
seem like
nothing.
But I was still intrigued!
The first half of the novel was boring compared to the action in the end, which involved darker forces besides slavery and the trials to become
Emperor
. Which is why I would read the next book for all my answers.
I feel like after many months in anticipation, this definitely falls flat for me. I was expecting more worldbuilding, based on Ancient Rome, and even though there were ghouls and sand efrits, but I felt that came out of nowhere, and didn't really fit in with the setting. Also, rape is mentioned a couple of times, and I know some readers have been put off by that as well.
In conclusion, I liked An Ember in the Ashes. I think readers who loved Red Rising would definitely enjoy this, because it's along the same lines plot-wise.