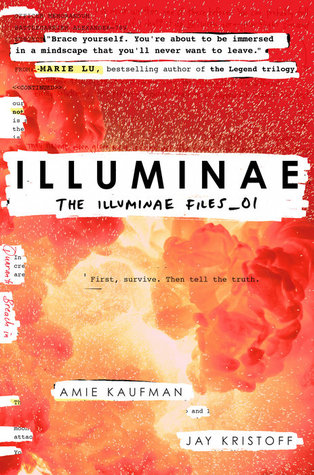 Illuminae by Amie Kaufman & Jay Kristoff
The Illuminae Files #1
Publish
er: Knopf Books for Young Readers
Release Date: October 20th, 2015
Source: Netgalley & Book Expo America
Date Read: 10/13/15 to 10/14/15
608 pages
This morning, Kady thought breaking up with Ezra was the hardest thing she'd have to do.

This afternoon, her planet was invaded.

The year is 2575, and two rival megacorporations are at war over a planet that's little more than an ice-covered speck at the edge of the universe. Too bad nobody thought to warn the people living on it. With enemy fire raining down on them, Kady and Ezra—who are barely even talking to each other—are forced to fight their way onto an evacuating fleet, with an enemy warship in hot pursuit.

But their problems are just getting started. A deadly plague has broken out and is mutating, with terrifying results; the fleet's AI, which should be protecting them, may actually be their enemy; and nobody in charge will say what's really going on. As Kady hacks into a tangled web of data to find the truth, it's clear only one person can help her bring it all to light: the ex-boyfriend she swore she'd never speak to again.

Told through a fascinating dossier of hacked documents—including emails, schematics, military files, IMs, medical reports, interviews, and more—Illuminae is the first book in a heart-stopping, high-octane trilogy about lives interrupted, the price of truth, and the courage of everyday heroes.
Here is the first thing I want to say. Never have I ever shipped a ship. You'll understand what I mean once you read this book. In other words, read this book.
Illuminae is unlike anything I have ever read, and I'm sure you've heard this said a lot in reviews. But it's true. Not only is it about a girl and a boy trying to find there way to get to each other, but also about space travel, a universe wide conspiracy, and oh don't forget the epidemic that turns people into crazy, insane cannibals.
Like in Bioshock. Full of fun, insane, crazy people
After an invasion of their home colony Kerenza, both Kady Grant and her ex-boyfriend Ezra Mason are brought onboard three ships for evacuation. As they escape, a dreadnought, the Lincoln, tails them in order to destroy what is left of their planet. So all three ships, the Hypatia, the Alexander, and the Copernicus hightails it
out of there, but unfortunately no one got their calls for distress, and they cannot space jump due to a malfunction.
And not only that, but let's add on to the problems. One, there's a disease, most likely due to a biological weapon, spreading on the Copernicus, infecting everyone. Second, the A.I. has gone mad. And third, no one is coming to help them. And all of this is discovered by Kady, an expert hacker who knows there is more to the situation than is let on.


Look at this beauty
This book killed me. I was near tears by the middle, and then full out bawling at the climax. You would think that a book in the format of case files, emails, instant messages, and even in code, wouldn't move me. But it did. And now I am sad to say that the next book doesn't come out until, what, 2017? Who knows. All I know is that I don't have it.
The one gripe, and it's really small, is that sometime I had to physically turn the book in order to read some of the sentences. I am far too lazy to turn this heavy book. Yep. That was my gripe. My laziness.
Wow I feel like I barely talked about anything. Feelings wise. Well, I don't want to explain too much, and I rather have you guys read it for yourselves and be surprised. Am I not merciful?