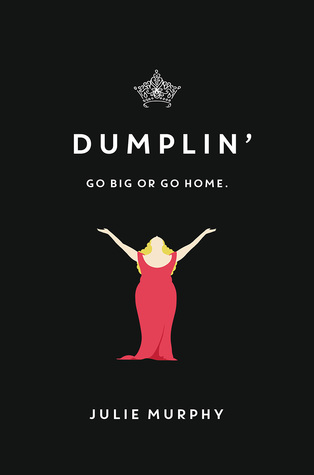 Dumplin' by Julie Murphy
Publish
er: Balzer + Bray
Release Date: September 15th, 2015
Source: Edelweiss
Date Read: 10/16/15 to 10/20/15
384 pages
Self-proclaimed fat girl Willowdean Dickson (dubbed "Dumplin'" by her former beauty queen mom) has always been at home in her own skin. Her thoughts on having the ultimate bikini body? Put a bikini on your body. With her all-American beauty best friend, Ellen, by her side, things have always worked…until Will takes a job at Harpy's, the local fast-food joint. There she meets Private School Bo, a hot former jock. Will isn't surprised to find herself attracted to Bo. But she is surprised when he seems to like her back.

Instead of finding new heights of self-assurance in her relationship with Bo, Will starts to doubt herself. So she sets out to take back her confidence by doing the most horrifying thing she can imagine: entering the Miss Clover City beauty pageant—along with several other unlikely candidates—to show the world that she deserves to be up there as much as any twiggy girl does. Along the way, she'll shock the hell out of Clover City—and maybe herself most of all.
I received this eARC in exchange for an honest review. Quotes taken from ARC may or may not be in the published edition.
I thoroughly enjoyed reading Dumplin'. It was a very fun and cute read that had a very good message, even though I didn't necessarily love the book. As much as I tried to view things in her perspective, it was hard to do so since I could not connect with her. Plus, I also felt that reviews I have read overstated the confidence of the character.
Willowdean has never felt the need to change the way she looked for others. She's perfectly comfortable in her own skin, until she meets Private School Bo. Bo, who works at the same fast food joint, and who surprisingly likes her back when he wasn't supposed to. Being overwhelmed by all of these feelings, Willowdean does the unexpected. She enters in her mom's beauty pageant. But it's not because she wants to make it a joke, but because she and her new friends are standing up to the ideals of society.
You do not have to be stick thin to enter a beauty pageant
.
I think this is the first time in awhile that I have been struggling with writing a review. There are a number of things that felt a little off to me, especially the relationship between Willowdean and Bo. For one, I did not understand why she did not want to be with him, even though both of them really liked each other. One of the reasons Will did not get with Bo was because she had mixed feelings about him touching her body. And the other, more "confusing to me" reason was that she didn't want to be THAT girl, the one who got someone who was out of her league. I just did not expect this from a confident character. However, then again, I do have to agree that
everyone has something they are self-conscious about, even if it doesn't seem like it.
But even so, I still felt that
the relationship was just there
. There was barely any development between Bo and Willowdean, and I am not sure how it happened, especially since it happened so quickly.
Also
more importantly,
I did not understand how her relationship led to Willowdean entering the beauty pageant, something she has loathed since the beginning. Or why she ended up going out with another guy, Mitch, which again, had a very fast development.
Besides the whole messy romantic situation, I loved the parts about the pageant, especially since
it made me think differently about them.
I used to think they were all about beauty, and that's it, but I also think that it has to do with who you are on the inside. And HER FRIENDS. They were actual individuals with real life problems, and yet they were able to gain the confidence to overcome them. If I were to be honest, I would rather have the book be about Millie rather than Will. She is the character I was expecting from this book.
Oh I said a lot. At first I thought I would not have much to say, but I guess that didn't happen. To conclude,
Dumplin'
was a good read, but I just could not connect with Willowdean, and this affected my enjoyment of the novel.