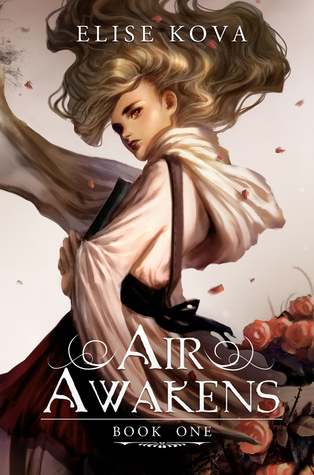 Air Awakens by Elise Kova
Air Awakens #1
Publisher:

Silver Wing Press
Release Date: August 27th, 2015
Source: Physical ARC from Author
Date Read: 9/26/15 to 10/5/15
377

pages
A library apprentice, a sorcerer prince, and an unbreakable magic bond...

The Solaris Empire is one conquest away from uniting the continent, and the rare elemental magic sleeping in seventeen-year-old library apprentice Vhalla Yarl could shift the tides of war.

Vhalla has always been taught to fear the Tower of Sorcerers, a mysterious magic society, and has been happy in her quiet world of books. But after she unknowingly saves the life of one of the most powerful sorcerers of them all—the Crown Prince Aldrik—she finds herself enticed into his world. Now she must decide her future: Embrace her sorcery and leave the life she's known, or eradicate her magic and remain as she's always been. And with powerful forces lurking in the shadows, Vhalla's indecision could cost her more than she ever imagined.
I received this ARC from the author in exchange for an honest review. Quotes taken from ARC may or may not be in the published edition.
I just want to mention that that was the most epic last line I have ever read. After I read it, I immediately wanted to get to the next installment. BECAUSE IT IS GOING TO BE EPIC.
Okay, onto the actual review.
I heard about
Air Awakens
through one of my favorite blogging buddies Ely @
Tea & Titles
. And seeing that it is about magic involving the elements, I immediately looked into it. I was able to get a hold of a copy through the author herself, since Amazon messed up and had ARCs instead of finished copies.
Anyways, I seriously
could not
stop reading this. I even got annoyed at my roommate for disrupting my reading time by asking to prepare pizza for dinner. I DON'T HAVE TIME TO MAKE PIZZA. I needed to read Air Awakens at every waking moment. The plot had me hooked. Vhalla Yarl, a library apprentice with a love of books (!!!), discovers that she's actually a sorcerer. This comes as a huge shock, seeing as sorcerers are kind of looked down upon as evil. And as much as the Tower, where the sorcerers live and learn to use their powers, try to persuade her to join, she's still uncertain. It really doesn't help the fact that she's the
only sorcerer with an Air Affinity.
Just like this weirdo from Avatar: The Last Airbender
And then enter in Aldrik, the crown prince who also is a sorcerer. Ever since he pushed her off the roof to ascertain her powers, she hates him. But then hate turns to tolerate, and then to some sort of attraction between them. And it's great because Aldrik is sometimes cold-hearted, but he really wants Vhalla to forgive him, especially since [spoilers]
he originally only wanted to use her for her powers.
[spoilers]
And it also doesn't help that the two of them are bonded to one another, since Vhalla saved his life in the beginning.
The plot kind of reminded me of
Shadow & Bone,
with Vhalla having a special power that is extremely powerful. And plus the turn in plot, seeing as it went from casual meetings with Aldrik, to BOOM, ACTION AND DECEPTION. Did I mention how I couldn't put this down? Well yeah, I couldn't.
Also, at first I thought there was going to be three love interests, but luckily that barely caused
any
drama, something I was afraid was going to happen. This was due to Vhalla
actually
being smart, and realizing that she didn't have any feelings for the other guy. And of course what happened in the end was unfortunate, but what's done is done. I didn't really liked him too much either, and I was expecting the book to take a different route when he started going to the library to research magic.
Pretty much the
only
reason it's not a full five stars is because I felt like the book was unusually fast paced in the beginning. But the pacing evened out the further in, and then it just got more and more amazing.
So yes. I can't tell you enough to
READ THIS BOOK.
It's well-written, the
cover is gorgeous,
and just amazing in general. Plus
the sequel is coming out on November 19th, and it's called Fire Falling!