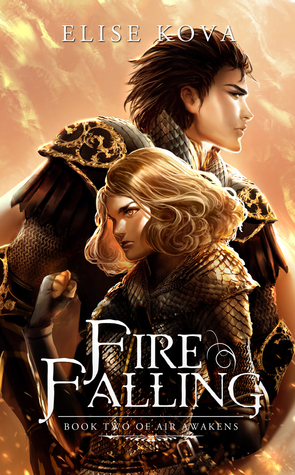 Fire Falling by Elise Kova
Air Awakens #2
Publisher:

Silver Wing Press
Release Date: November 19th, 2015
Source: eARC from Author
Date Read: 10/22/15 to 10/23/15
378

pages
Soldier… Sorcerer… Savior… Who is Vhalla Yarl?

Vhalla Yarl marches to war as property of the Solaris Empire. The Emperor counts on her to bring victory, the Senate counts on her death, and the only thing Vhalla can count on is the fight of her life. As she grapples with the ghosts of her past, new challenges in the present threaten to shatter the remnants of her fragile sanity. Will she maintain her humanity? Or will she truly become the Empire's monster?
Elise Kova has always had a passion for storytelling. She wrote her first novella, a high-fantasy, in sixth grade. Over the years she's honed her love of literature with everything from fantasy to romance, science fiction to mystery, and whatever else catches her eye.
Elise lives in Saint Petersburg, Florida, where she's currently working on the next installment in her debut YA fantasy series: Air Awakens. She enjoys video games, anime, table-top role playing games, and many other forms of "geekdom." She loves talking with fans on
Twitter
(@EliseKova) and
Facebook
.
I received this eARC from the author in exchange for an honest review. Quotes taken from ARC may or may not be in the published edition.
I see that the author has NO QUALMS about making me suffer throughout my reading of
Fire Falling.
And here I was, expecting a nice, fantasy read that did not play with my feelings. But I was very, very wrong. And now I am sad, yet ready to read the third book,
Earth's End,
which, oh isn't coming out until 2016. I HATE WAITING.
If you haven't read
Air Awakens,
here's a short list of
why you must read it.
Also my review is
here
if you need more convincing!
Vhalla discovers that she is a sorcerer, and not only that but she is the only Windwalker left. In other words, if you like Avatar: The Last Airbender, this is definitely the book for you.
The banter between Vhalla, Aldrick, and her friends are incredibly fun to read! And this continues on into the Fire Falling (there is SO MUCH MORE snark, I approve entirely)
Gorgeous cover art is always a plus!
I really cannot stress the fact that not only was Air Awakens a strong start to the series, but Fire Falling surpassed it in every way imaginable. In other words, this series is worth starting.
In continuation of the first book, Fire Falling starts with Vhalla's preparation to go to war as the property of the Emperor. One of the things I want to point out is the development of Vhalla from the first book to this one. Even though she did harden through the events of the first book, her true character still showed when she was around Aldrick. Also, can I mention that I have never shipped two characters as hard as I did while reading Fire Falling? Because as much as Aldrick's hot and cold temperament frustrated me, the two of them together were perfect for each other.
Also, how do authors do that to their own characters? I had a favorite character, I really did, and now, NOPE, NOTHING. It happened really quickly as well. I was also expecting there to be more reflection on the event, but the story moved on too quickly to cover it.
There was something severed and rough about her, something tainted and, yet, at the same time those jagged pieces were the makings of something fearsome. She'd wanted to become someone the Senate would fear, why not shatter the sky?"

The writing also was a major improvement from Air Awakens, though that is not to say that the writing was bad then. It is just that I immediately noticed the difference in writing. There was just more of a flow in the language, like in the quote above.

Oh, let us not talk about the ending because I feel like I have been betrayed. Betrayed, I tell you.

Overall, I really enjoyed reading Fire Falling, and just like Air Awakens, I read the whole book in only two days. I think this is a series that is incredibly underrated and needs more attention in the book world, because it deserves it. It belongs up there with the other highly rated YA fantasy reads. Believe me when I say this!