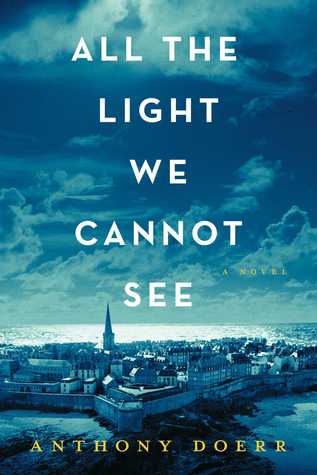 All The Light We Cannot See by Anthony Doerr
Publisher: Scribner
Release Date: May 6th, 2014
Source: Bought
Date Read: 2/16/15 to 2/18/15
530 pages
Rating:

✰
✰
✰
✰
✰
Marie-Laure lives with her father in Paris near the Museum of Natural History, where he works as the master of its thousands of locks. When she is six, Marie-Laure goes blind and her father builds a perfect miniature of their neighborhood so she can memorize it by touch and navigate her way home. When Marie-Laure is twelve, the Nazis occupy Paris, and father and daughter flee to the walled citadel of Saint-Malo, where Marie-Laure's reclusive great-uncle lives in a tall house by the sea. With them they carry what might be the museum's most valuable and dangerous jewel.

In a mining town in Germany, the orphan Werner grows up with his younger sister, enchanted by a crude radio they find. Werner becomes an expert at building and fixing these crucial new instruments, a talent that wins him a place at a brutal academy for Hitler Youth, then a special assignment to track the resistance. More and more aware of the human cost of his intelligence, Werner travels through the heart of the war and, finally, into Saint-Malo, where his story and Marie-Laure's converge.
Goodreads | Amazon | B&N | Book Depository
This is the review where I flail and drown in my emotions because MAN. If I were to describe this book in one sentence, it would be "Simultaneously bringing you hope while crushing it by forcing you to face the reality of WWII." I. FREAKING. HATE. REALITY.
All The Light We Cannot See is a beautiful story about WWII, a blind girl in France and a boy who's an expert at fixing any broken radio, whose lives end up crossing even though they are miles and miles apart, and on different sides.
Do you remember how I said that I loved it when two characters are developed apart, and then they finally meet up? Do you remember how I said that one of my favorite books is The Book Thief? Do you remember how much I love stories about WWII? Well this is basically why All The Light We Cannot See is my new favorite book (one of). First off, every single one of the characters each had their own story, and much time was spent on developing them all. Second, Marie-Laure is blind, yet the author pulls off the most beautiful imagery through her POV, even though she is BLIND. KEY WORDS THERE! And lastly, this book is almost like the adult version of The Book Thief (well okay maybe not, but I saw some elements that I thought were pretty similar)
My babies
Plus, my heart broke for everyone. Marie-Laure, her father, her uncle Etienne, Werner, his sister Jutta, Frederick, and Madame Manec. And especially for the love that never happened, but could've. If only things weren't the way they were.
Have I mentioned the magical realism that happens in this book? But wait, is it actually magical realism? In the book, the story of the Sea of Flames is brought up, a mythical diamond that resembles a little flame within a whole lot of blue. Although it is beautiful, legend says that anyone in possession of the diamond will never die, but instead cause misfortune upon everyone around him. Throughout the novel, questionable events happen involving the diamond, but it is up to the reader to decide to believe in this story or not.
One small, little gripe I had with the novel was that it wasn't enough. I mean come on, MY HEART was broken into two and the author teased me with this one scene but then THAT'S IT. As the novel goes on, we go further and further into the future and I can just see my hopes being crushed because I know it's not going to happen. And it hurts.
There is one thing I can say for certain, and that's everyone must read this book. It's beautifully and emotionally written. When I finished the novel, I just sat there speechless because I had no idea what to do with my life because it ended realistically and there was nothing I could do about it.
PSA: Unrelated note, my laptop is fixed which is why I'm here! Yay!