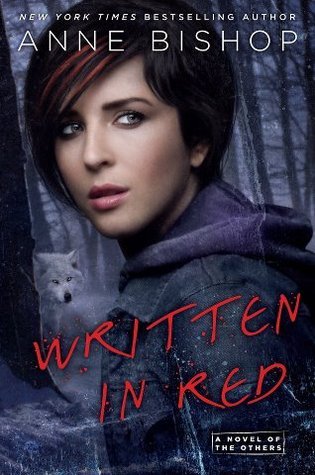 Written in Red by Anne Bishop
The Others #1
Publisher: NAL Hardcover
Release Date: April 5th, 2013
Source: Library
Date Read: 2/28/15 to 3/6/15
433 pages
Rating:

✰
✰
✰
✰
As a cassandra sangue, or blood prophet, Meg Corbyn can see the future when her skin is cut—a gift that feels more like a curse. Meg's Controller keeps her enslaved so he can have full access to her visions. But when she escapes, the only safe place Meg can hide is at the Lakeside Courtyard—a business district operated by the Others.

Shape-shifter Simon Wolfgard is reluctant to hire the stranger who inquires about the Human Liaison job. First, he senses she's keeping a secret, and second, she doesn't smell like human prey. Yet a stronger instinct propels him to give Meg the job. And when he learns the truth about Meg and that she's wanted by the government, he'll have to decide if she's worth the fight between humans and the Others that will surely follow.
Goodreads | Amazon | B&N | Book Depository
Where has this book been all my life? WHERE? Of course I love Written in Red now, but I know if I was still a young teenager, I would've adored it. Like more so than now. I would have definitely let go all the minor things here and there.
Where to start.
Oh right, I have to thank everyone that pushed me to read this series,
Paula
,
Faye
, where would I be without you guys? I will gladly join the waiting club for the next book, even though I haven't read the second or third one yet. (Ok maybe not gladly, but you know what I mean).
Before I get into the plot and characters, I think it's important to discuss me, well mostly my reading tastes. As I said before, I loved paranormal YA when I was younger. I was
obsessed with
The Mediator
series by Meg Cabot. I loved plots where the main character had some sort of power while everyone else didn't.
Although my tastes have matured a bit, Written in Red still hit all of my favorite tropes.
Our main character, Meg Corbyn, is a blood prophet in that she can predict the future when she's cut. As she runs away from her owner, she stumbles upon The Courtyard, which is run by THE OTHERS (Thee Odders *cue Lost theme* hahahah). Since the Others, the terra idigne, are considered superior to humans because they can shift to their animal skin, The Courtyard does not follow human law. This is why Meg seeks employment there, because she at least knows that no one can touch her on their property.
And thennnnnnn she meets Simon! The wolf terra indigne. And then everything is great. I love where this slow burn romance is going, even though nothing has happened yet in this book. I'm just glad that it's NOT a fast developing relationship. The Courtyard, and everything relating to The Others, is very well developed and executed. The most surprising part was that I had no trouble with all the characters, probably because it had to do with animals (and everyone knows I love animals).
Not amused
On the downside, I'm not sure how I feel about how everyone loves Meg and how she gets out of bad situations easily. This is weird for me to admit, because I often hate characters that create problems for themselves by being reckless or being naive. Yet, I actually expected Meg to mess up much more than she did, or get into more trouble for crossing the line. But this rarely happened. Either I'm too used to what should happen in YA, or I think that Meg's naivety should've warranted for more mess ups.
Overall, I WILL CONTINUE THE SERIES. In this case, I think the pros outweigh the cons, and I am very happy that this book satisfied by teenage self!