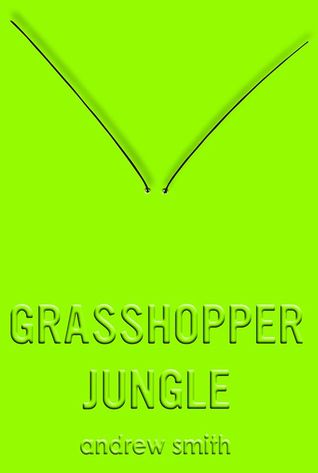 Grasshopper Jungle by Andrew Smith
Publisher: Dutton Books For Young Readers
Release Date: February 11, 2014
Source: Library
Date Read: 3/16/15 to 3/17/15
432 pages
Rating:

✰
✰
✰
Sixteen-year-old Austin Szerba interweaves the story of his Polish legacy with the story of how he and his best friend , Robby, brought about the end of humanity and the rise of an army of unstoppable, six-foot tall praying mantises in small-town Iowa.

To make matters worse, Austin's hormones are totally oblivious; they don't care that the world is in utter chaos: Austin is in love with his girlfriend, Shann, but remains confused about his sexual orientation. He's stewing in a self-professed constant state of maximum horniness, directed at both Robby and Shann. Ultimately, it's up to Austin to save the world and propagate the species in this sci-fright journey of survival, sex, and the complex realities of the human condition.
Goodreads | Amazon | B&N | Book Depository
Please do not even ASK me what Grasshopper Jungle is about. I don't think ANY summary can do it justice because how do I even explain everything that is going on here? Look, I'll give you a one sentence summary:
Val's One Sentence Summary: 15 year old sexually confused boy ponders about his love with both his best friend and girlfriend while man-eating praying mantises and grasshoppers emerge by radioactivity, eating people and also populating the earth.
HAHAH WHAT IS THIS EVEN.
The funny thing is that I actually went into this book knowing that things were going to get a little crazy, well a lot. Yet it didn't even start out that way at all. It started out very normal, and then I thought "Hey this is actually pretty normal". BUT NOPE. NOPE. NOPE.
Let's talk about the characters, I guess. Our narrator here is Austin, who as I said is in love with both Robby and Shann. Since this book is basically his thoughts, the writing style is a little unique. You see, Austin likes to think himself as a historian; he writes down everything that happened in his life, kind of like a journal but more of a way of keeping track of history. His train of thought starts at one point, then he goes back in time, then to the future, then back again to the present. It sounds confusing, but it's kind of easy to follow. It's like a spider web, spewing out all the information at once, and only later can you connect them all. It sounds complicated, but it is in fact pretty cool.
Also, teenage boys are weird. Is it true that all they think about is sex? That's kind of what I'm getting from this novel. Literally on every page, Austin either mentions:
He's horny
Something makes him horny
LIKE STOP. THIS IS SO AWKWARD. It's great that this book is so intimate with the journal-esque writing style, but it's just so weird to me! Maybe if I were a boy I would understand? (ew boys)
AND THEN THE HUMAN SIZED GRASSHOPPERS AND PRAYING MANTISES JUST BREAKING OUT OF INFECTED HUMANS LIKE THEY'RE SHELLS. I don't know what to do with this book. I really don't. And that ending, it was just, I don't even know what to expect anymore.
All I can say is that this is one messed up book. It's unique, weird, and I think I would've liked it more if I could relate but sadly I did not.
Anyways, read this if you're looking for crazy.