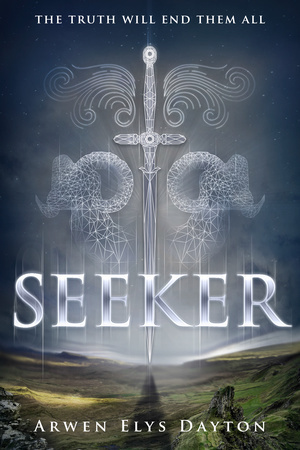 Seeker by Arwen Elys Dayton
Seeker #1
Publisher: Delacorte for Young Readers
Release Date: February 10, 2015
Source: Netgalley
Date Read: 3/9/15 to 3/12/15
448 pages
Rating:

✰
✰
Quin Kincaid has been put through years of brutal training for what she thinks is the noble purpose of becoming a revered 'Seeker'.

Only when it's too late does she discover she will be using her new-found knowledge and training to become an assassin. Quin's new role will take her around the globe, from a remote estate in Scotland to a bustling, futuristic Hong Kong where the past she thought she had escaped will finally catch up with her.
Goodreads | Amazon | B&N | Book Depository
2 stars is generous, and that's saying something coming from me.
Do you know what kind of sucks about Seeker? It's that the publisher really pushed this, in that the very first thing I read was a letter from the publisher saying that "this was going to be the next big thing". Well, I'm sad to say that no, it is not the next best thing.
Let's see here. The story is split between three POVs, Quin, John, and Shinobu. Basically, we start off with all of them training together to become Seekers, then Quin's father tests all of them to see if they are worthy for the title. Then, he purposely fails John because he hates his family and doesn't want him to rise again, and this leads to rage on John's part. And then everything falls apart after that. Of course, Quin and Shinobu go on to get their Seeker....uh...ship, and it turns out to be a bad thing because everything was kept hush hush until the actual initiation.
And even then I had no idea what being a Seeker meant.
No, I seriously don't know what is happening in this book. Everything is just scattered, and it's like we're in the author's world, and she's expecting us to know everything already. NO YOU HAVE TO EXPLAIN. I don't know what Seekers do! I don't know what There is! I don't know! I don't know!
And then there's this whole love triangle that I just didn't want to have to deal with because I don't even know what's happening in the first place.
Wait, why am I giving this 2 stars? I would say because, oh I don't know. I guess there's a lot of action, especially towards the end. Though seriously, this is one fast-paced, goldfish-brained book. And, in my opinion, poorly executed.
Final thoughts: This is not the next big thing.
Also I think this is the harshest review I've written since the summer. Uh oh.
(I'm sorry I'm not usually like this I just accidentally let myself go)