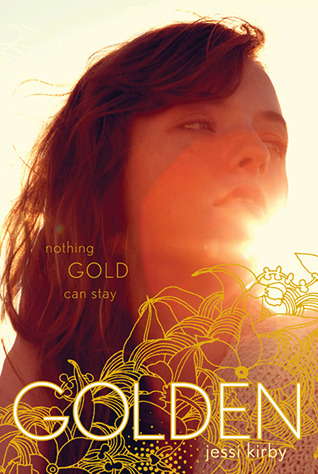 Golden by Jessi Kirby
Publisher: Simon & Schuster Books for Young Readers
Release Date: May 14th, 2013
Source: Library
Date Read: 3/2/15 to 3/4/15
278 pages
Rating:

✰
✰
✰
✰1/2
Seventeen-year-old Parker Frost has never taken the road less traveled. Valedictorian and quintessential good girl, she's about to graduate high school without ever having kissed her crush or broken the rules. So when fate drops a clue in her lap—one that might be the key to unraveling a town mystery—she decides to take a chance.

Julianna Farnetti and Shane Cruz are remembered as the golden couple of Summit Lakes High—perfect in every way, meant to be together forever. But Julianna's journal tells a different story—one of doubts about Shane and a forbidden romance with an older, artistic guy. These are the secrets that were swept away with her the night that Shane's jeep plunged into an icy river, leaving behind a grieving town and no bodies to bury.

Reading Julianna's journal gives Parker the courage to start to really live—and it also gives her reasons to question what really happened the night of the accident. Armed with clues from the past, Parker enlists the help of her best friend, Kat, and Trevor, her longtime crush, to track down some leads. The mystery ends up taking Parker places that she never could have imagined. And she soon finds that taking the road less traveled makes all the difference.
Goodreads | Amazon | B&N | Book Depository
First, let me tell you, I am a huge fantasy geek. I basically only read books that are epic fantasy, urban fantasy, paranormal, just anything that somewhat incorporates fantasy. Now, let me flail about Golden, a coming of age story about a girl who thought she had everything, but then realized that she didn't. About a girl that worked so hard for a life that may not even be for her. This is a pure young adult contemporary, and I loved it.
Of course things change, that's a given. I've spent the last four years of my life working and waiting for them to change. Always waiting for the next thing - to graduate, to leave town, to go to college. And it's felt like an eternity. Times goes by slowly when you spend it waiting. But now, it's actually been flying by this whole time, and I've been too busy waiting to see what was happening all around me. Now I don't know if it's too late to try.
Parker, just nominated for a fully paid scholarship to Stanford, is beyond excited that everything she's worked for the last four years have finally paid off. Not ditching classes, not going to parties, and being an overachiever in general has gotten her to exactly what she wanted in life, that is, until she finds a high school
journal of Julianna Farnetti,
the girl that drowned in Summit Lake with her high school sweetheart 10 years ago, the boy whose family sponsors her scholarship.
The journal she discovers reveals a lot of things, like how maybe the golden relationship that is portrayed as the town symbol wasn't as golden as everyone thought it was. Maybe Julianna is still alive somewhere, or maybe not. From this and her road trip with Kat and Trevor, Parker begins to rethink her life, and whether she truly wants it.
Guys.
This book describes my life.
Well maybe my past. I really related to what Parker was going through, because that's how I felt all of elementary school, middle school and high school. My mom and I weren't really on the best of terms throughout my childhood. Even in third grade I wasn't allowed to leave the house until I finished piano practice, Chinese, English, writing, and math. I was taught algebra before middle school, even though I was taking math classes in school already. I was very overwhelmed with all this pressure, and I couldn't get away from it.
Now, I think my mom has learned that what she wanted for me wasn't what I wanted for myself. My childhood is a very sensitive topic for me, just because I feel like my childhood was forcefully taken away from me because education was always put first. Right now, I am a
really, really happy, and I am just glad my mom has finally decided to listen to me.
So yeah. Usually don't talk about this because I don't want to think about it, but
Golden just resonated with me so well.
I know I basically just rambled on about myself. But uh..um THE BOOK. Yes. I really do recommend it! It's a very short read, and even so it holds a lot of weight. PLUS THIS REC IS COMING FROM SOMEONE WHO USUALLY DOESN'T READ CONTEMPORARY. So you should take this very seriously :)