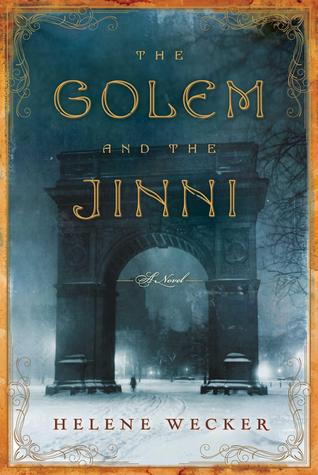 The Golem and the Jinni by Helene Wecker
Publisher: HarperCollins
Release Date: April 23rd, 2013
Source: Bought
Date Read: 11/29/14 to 12/30/14
496 Pages
Rating:

✰
✰
✰
✰
Chava is a golem, a creature made of clay, brought to life by a disgraced rabbi who dabbles in dark Kabbalistic magic. When her master, the husband who commissioned her, dies at sea on the voyage from Poland, she is unmoored and adrift as the ship arrives in New York in 1899.

Ahmad is a jinni, a being of fire, born in the ancient Syrian desert. Trapped in an old copper flask by a Bedouin wizard centuries ago, he is released accidentally by a tinsmith in a Lower Manhattan shop. Though he is no longer imprisoned, Ahmad is not entirely free – an unbreakable band of iron binds him to the physical world.

The Golem and the Jinni is their magical, unforgettable story; unlikely friends whose tenuous attachment challenges their opposing natures – until the night a terrifying incident drives them back into their separate worlds. But a powerful threat will soon bring Chava and Ahmad together again, challenging their existence and forcing them to make a fateful choice.
Hey it's been a while, but I'm back and doing reviews for my dear bud Val, so expect to see a lot more of me this year!
This book was magical, touching, charming, and realistic all at once. I followed the lives of two mythical creatures as they made their way in late 19th century New York, and
simultaneously
found myself questioning some of silly things inherent in human nature. I loved this book.
Chava is a golem, a creature made of earth and clay that was brought to life by her master on a voyage across the Atlantic. A golem is created in order to serve their master and can look into their minds and hear their desires.
However her master died shortly after, leaving her alone and overwhelmed in New York city as her head is constantly filled with the wants, wishes, and hopes, of everyone in the city. Eventually she runs into a Jewish rabbi that takes her under his wing and teaches her how to pass as a human.
Ahmad, is a jinni and the exact opposite of Chava. While Chava is essentially a child, the Ahmad is hundreds of years old. Chava is timid, cautious, and wants to help others, while Ahmad is a bit selfish, hedonistic, and cares little for how his actions might affect others. A golem is created by humans for the purpose of serving while jinnis have no master and even look down upon humans. Chava is made of earth while Ahmad is a being of fire untethered by anything. Well...until he got tricked into captivity by a wizard many, many years ago. Somehow his lamp ended up in a Syrian immigrant's tinsmith shop, and when he goes to fix it, the jinni is released. Used to a life of flitting from one pleasure to another he is greatly irritated by his new captivity as he begins to make a life for himself.
While Chava and Ahmad are the main characters, the story is told from many point of views and we are introduced to many characters. Initially, this diversions feel like little mini-side stories, introducing me to people in different countries or giving me a history and a minor character I had met earlier in the story. However, it didn't detract from the story at all for me, I was excited to learn about all these characters. It's not until closer to the end of the novel that I began to understand these character's importance to Chava and Ahmad's story. Overall the author has a masterful control over the story and I always felt safe in her hands.
The only downside is that I felt like it took a lot of time for an actual plot to emerge. It was like two-thirds of the book was spent just observing Chava and Ahmad struggle and discover their way in New York city--which I didn't mind at all, because as I said earlier I loved them as characters. When the plot did finally show up it felt a bit rushed in comparison to the rest of the book. Which didn't bother me too much because THAT PLOT TWIST THOUGH OMG
In addition to the magical story, this book paints a realistic picture of the immigrant experience which I really enjoyed. It also left me pondering on some aspects of human nature, like why we cling to religion, or why we often don't act on our innermost desires, or why we risk so much for love.
I highly, highly recommend this book. It's not often I'd use the words quaint or charming or sweet to describe a book, but I feel they describe this book perfectly. Read it you won't be disappointed! I'll leave you with one of my favorite quotes from it.
He drew her close, the crown of her head beneath his cheek. Beyond the hansom's window, New York was an endless rhythm of walls and windows and doors, darkened alleys, flashes of sunlight. he thought, if he could pick a moment to be taken into the flask, a moment to live in endlessly, perhaps he would choose this one: the passing city, and the woman at his side."
Vanessa
is Val's bestest buddy, and she will be guest posting ooccasionallybecause
she loves to read and write.
You can also find her at her own blog,
Musings of an Aspiring Writer
.