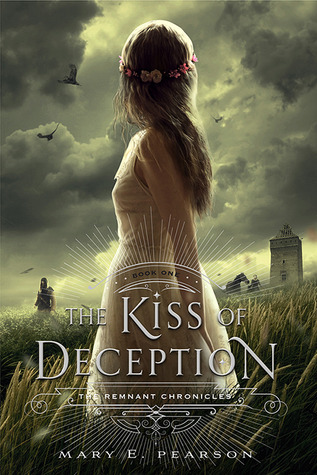 The Kiss of Deception by Mary E. Pearson
The Remnant Chronicles #1
Publisher: Henry Holt & Co (BYR)
Release Date: July 8th, 2014
Source: Library
Date Read: 1/21/15 to 1/25/15
489 Pages
Rating:

✰
✰
✰
✰
A princess must find her place in a reborn world.

She flees on her wedding day.

She steals ancient documents from the Chancellor's secret collection.

She is pursued by bounty hunters sent by her own father.

She is Princess Lia, seventeen, First Daughter of the House of Morrighan.

The Kingdom of Morrighan is steeped in tradition and the stories of a bygone world, but some traditions Lia can't abide. Like having to marry someone she's never met to secure a political alliance.

Fed up and ready for a new life, Lia flees to a distant village on the morning of her wedding. She settles in among the common folk, intrigued when two mysterious and handsome strangers arrive—and unaware that one is the jilted prince and the other an assassin sent to kill her. Deceptions swirl and Lia finds herself on the brink of unlocking perilous secrets—secrets that may unravel her world—even as she feels herself falling in love.
Goodreads | Amazon | B&N | Book Depository
This was a really surprising read! Honestly, I have been avoiding The Kiss of Deception just because it was really long and intimidating, and I didn't feel like reading something so long. But nevertheless, I did love it a lot, so that's good.
The Kiss of Deception is about a princess, Lia, that doesn't want to be a princess because she doesn't want to marry some stranger prince (who could be 40 years old so yeah, I wouldn't want to either). So she plans this scheme to escape with her best friend, Pauline, to Pauline's hometown, Terravin. They end up staying with Berdii (Aunt? Friend? Pauline's caretaker in the past?) who owns an inn, which is where they work at.
OF COURSE not everyone is happy with this. First, there's the assassin that's going after Lia because they don't want her making anymore alliances. And then, there's the prince that she was supposed to marry. So these two arrive at the inn, and they know who she is, but she doesn't know them, and neither does the reader!
So there's a love triangle between Lia, Rafe and Kaden, and you know what? I don't mind it! Though I do have one problem. The problem with deceiving the reader along with Lia as to who is who, is that now it's harder to separate the two guys, personality-wise. It's not until a little more than halfway through the novel do we see the differences between the two. But still, who is the assassin and who is the prince?
Lia, in my opinion, is a very strong character, although spontaneous and maybe a little clueless on her role as princess. When she wants something, she works really hard to get it. And she's not like other royals (pretty cliche haha), and that's why THE TWO GUYS FALL IN LOVE WITH HER. Surprise. Also, she has the gift? Of a, um...prediction? The future? I don't know how exactly it works, but there were random italicized phrases that I think is what the gift was referring to? I mean, I'll have to see in the next book.
SPEAKING OF THE NEXT BOOK, I need it. I really do.
So yeah, surprisingly I like love triangles, as long as they aren't just randomly placed there for no reason. I think this was a very well executed storyline that weaved in the romance nicely. Plus, there's no little annoying subconscious that constantly switches between one love interest to another ("I like him, but ohhh I like him too"). So yeah, I am very grateful for that HA.