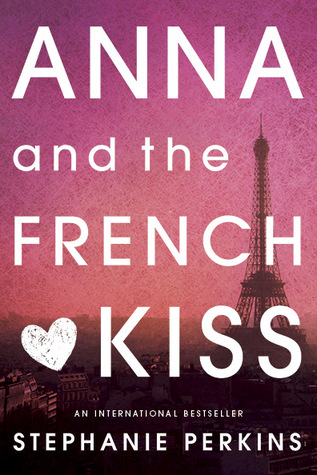 Anna and the French Kiss by Stephanie Perkins
Anna and the French Kiss #1
Publisher: Speak
Release Date: July 16th, 2013
Source: Bought
Date Read: 1/1/15 to 1/4/15
372 Pages
Rating:

✰
✰
✰
1/2
Can Anna find love in the City of Light?

Anna is happy in Atlanta. She has a loyal best friend and a crush on her coworker at the movie theater, who is just starting to return her affection. So she's less than thrilled when her father decides to send her to a boarding school in Paris for her senior year.

But despite not speaking a word of French, Anna meets some cool new people, including the handsome Étienne St. Clair, who quickly becomes her best friend. Unfortunately, he's taken —and Anna might be, too. Will a year of romantic near misses end with the French kiss she's waiting for?
Goodreads | Amazon | B&N | Book Depository
Before I go on, I want to say a couple of things. First off, I actually really liked this book and the way the conversations flowed and also how easy it was to read this. AND IT WAS PARIS! Like, really accurately portrayed Paris!
So, why not the 5 stars? Well, I guess it's more of a me than the book thing. I think my review portrays my thoughts better than a rating anyways.
Anna and the French Kiss is about Anna, a senior in high school, transferring to an International school in Paris, also known as School of America Paris (aka SOAP). But yeah, she's pissed about it, but wait, she meets this amazing group of friends, including Etienne St. Clair. Too bad both of them are already taken. OR ARE THEY?????
As much as I loved the amazing conversations between Anna and St. Clair, the both of them did get on my nerves a little. For one, I didn't like how both of them blew off their friends (mainly Mer). I know Mer was interested in St. Clair, but she was still friends with everyone. Yet when Anna came, she was brushed off to the side even though she's nice to everyone. I just pitied her the entire novel, like man that sucks. I would've ditched that friend group if I was her.
St. Clair is adorable, hates stereotypes, and is American born British AND speaks French. Really, he's perfect, he sticks up to his friends, but then again kind of ignores Mer once he meets Anna (he used to hang out with Mer all the time). Oh right, and he has a girlfriend who's graduated already, but yet he still leads Anna on (and I guess Mer before too). Like, man all that drama at the end killed me.
BUT I STILL LOVED THE BOOK. Like even though Anna is pretty selfish, I LOVED her thoughts. Seriously, this whole book is a giant ball of fluff. Plus, Perkins definitely did her research. It actually felt like I was in France, in Paris, while I was reading this book.
And yes, Anna and St. Clair are VERY CUTE together. Plus they each have their own individual personalities, like Anna loves film and classics (she's a little movie nerd haha), and her dream is to become a movie critic! She even has her own movie review blog!
So yes yes, overall, I loved the book, and I loved all the characters (especially since Josh is gonna be featured in Isla and the Happily Ever After, right?) but the drama and the whole "I'm leading you on but I already have a girlfriend thing" didn't work for me. It was still an amazing read and the conversations felt very real. AND I WANT TO READ LOLA AND THE BOY NEXT DOOR NOW!