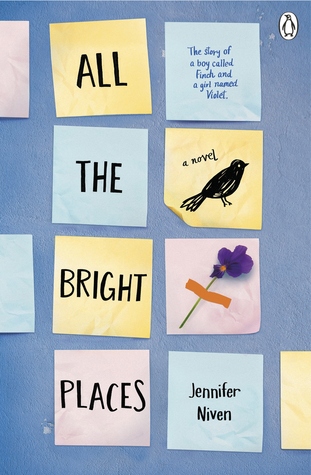 All The Bright Places by Jennifer Niven
Publisher: Penguin
Release Date: January 7th, 2014
Source: Bought
Date Read: 1/14/15 to 1/17/15
388 Pages
Rating:

✰
✰
✰
✰1/2
Theodore Finch is fascinated by death, and he constantly thinks of ways he might kill himself. But each time, something good, no matter how small, stops him.

Violet Markey lives for the future, counting the days until graduation, when she can escape her Indiana town and her aching grief in the wake of her sister's recent death.

When Finch and Violet meet on the ledge of the bell tower at school, it's unclear who saves whom. And when they pair up on a project to discover the 'natural wonders' of their state, both Finch and Violet make more important discoveries: It's only with Violet that Finch can be himself - a weird, funny, live-out-loud guy who's not such a freak after all. And it's only with Finch that Violet can forget to count away the days and start living them. But as Violet's world grows, Finch's begins to shrink.
Goodreads | Amazon | B&N | Book Depository
Man. I thought I was SO prepared. I mean, both Holly, Shannon, and Amber were reading it/have read it, and have warned me about the feels I would suffer from, but I went with it anyways. Friends are there to force others to read emotional books.
I wasn't expecting this though. I mean I WAS expecting something to happen, but I didn't want it to happen.
All The Bright Places is an amazing story of a suicidal boy, Finch, saving the life of a suicidal girl, Violet. And together, they have to work on a geography project, visiting the places that make Kentucky, well, Kentucky. Violet, having recently (but not really recently) recovering from the death of her older sister, doesn't see the point anymore. It takes Finch, or as everyone says, Theodore "Freak" to save her from jumping off the school roof, even though he's there to kind of do the same.
I loved both Violet and Finch, both having an obsession with looking up Virginia Woolf quotes to use them to communicate with each other. But it's just so amazing to see how a person can influence you in such a way.
"Because you smiled at me." "What?" "You asked why I wanted to do this with you. It's not because you were up on the ledge too, even though, okay, that's part of it. It's not because I feel this weird responsibility to keep an eye on you, which is also part of it. It's because you smiled at me that day in class. A real smile, not the bullshit one I see you give everyone all the time where your eyes are doing one thing and your mouth is doing another." "It was just a smile." "Maybe to you."
I loved all of the places that they visit, this includes the blue hole, a handmade crazy rollercoaster, the trailers FILLED WITH BOOKS. It reminded of the road trip I went on with my best friend (because we were very close to visiting this Blue Holes Falls but we didn't)
Lastly, I love the message that this novel conveys. There's always a comparison between Violet and Eleanor, who died in a car accident. It's mentioned a lot that Eleanor's life was taken away from her, but on the other hand, Violet feels she's being selfish because why would anyone take away their own life? It's important to remember that there are victims of suicide and other mental illnesses, and it's not different from a car accident, or cancer, etc. A person's life CAN be taken away from suicide. And Jennifer Niven expresses this very well in her novel.
"It's my experience that people are a lot more sympathetic if they can see you hurting, and for the millionth time in my life I wish for measles or smallpox or some other easily understood disease just to make it easier on me and also on them."
Overall, All The Bright Places isn't simply just about depression or suicide, but about the changing and growing lives of two beautiful people, and although I am very, very sad about how it ended, I'm glad it did end that way. Because, you know *sniff*, it was so so, *sniff* just so beautiful.