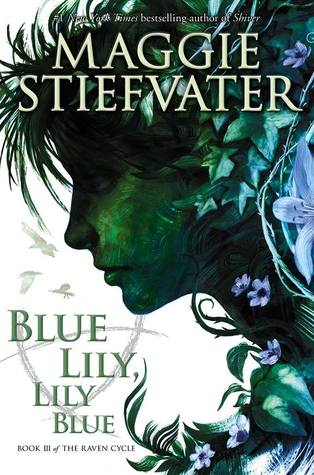 Blue Lily, Lily Blue by Maggie Stiefvater
The Raven Cycle #3
Publisher: Scholastic Press
Release Date: October 21st, 2014
Source: Netgalley
Date Read: 1/1/15 to 1/4/15
391 Pages
Rating:

✰
✰
✰
✰
✰
There is danger in dreaming. But there is even more danger in waking up.

Blue Sargent has found things. For the first time in her life, she has friends she can trust, a group to which she can belong. The Raven Boys have taken her in as one of their own. Their problems have become hers, and her problems have become theirs.

The trick with found things though, is how easily they can be lost.

Friends can betray.
Mothers can disappear.
Visions can mislead.
Certainties can unravel.
Goodreads | Amazon | B&N | Book Depository
"You can be just friends with people, you know," Orla said. "I think it's crazy how you're in love with all those raven boys."

Orla wasn't wrong, of course. But what she didn't realize about Blue and her boys was that they were all in love with one another. She was no less obsessed with them than they were with her, or one another, analyzing every conversation and gesture, drawing out every joke into a longer and longer running gag, spending each moment either with one another or thinking about when next they would be with one another. Blue was perfectly aware that it was possible to have a friendship that wasn't all-encompassing, that wasn't blinding, deafening, maddening, quickening. It was just that now that she'd had this kind, she didn't want the other."
I think it's safe to say that at this point, I am utterly in love with this series, and its characters. I just read the third book so fast, and now I have to wait so long for the next book. Wait, is it the last book? I don't even want to know. But man, things sure did happen in this installment.
Read the Raven Cycle? Good for you have a cookie. Haven't started the series yet? SHAME. Just kidding, just skim or skip this review.
I'm just letting you know this series is amazing, and if you haven't picked it up yet, then consider this your motivation!
As with the last two books, Blue Lily, Lily Blue was amazing. Stiefvater manages to develop her characters even further, which I thought wasn't even possible since it's the third book, but I don't even know why I doubted it. It really pains me to see this side of Ganesy though. I never really thought much of him throughout the first two books, but in this book, I really worry about his future. And basically everyone's future. I would love to ship Ganesy with Blue, but I feel like that would ruin the group of friends? Kind of? I REALLY NEED THE CONCLUSION TO THIS SERIES SO BADLY. Also Noah is mine.
And Adam! I thought he would never have the guts, but apparently I was wrong. I AM SO PROUD OF HIM.
Also, I don't know if anyone has noticed, but the conversations between the characters are very genuine. They actually sound like conversations between a group of friends. I know some people are a little put off by the writing of this series, but I think it fits it perfectly well. I mean, you know sometimes I'm confused by what's going, but at this point I am so enamoured by Blue and her Raven Boys that I just don't even care what happens. I literally accept everything. Heck, even a flying dragon could come in and destroy half of Henrietta, but as long as Ganesy, Ronan, Adam, Blue and her family, and Noah are safe, then I don't care.
I wish I had more words to say, but the shock of the last third of this book is still affecting me. First off, I wasn't even expecting that, and second NO THAT CANNOT HAPPEN, I just want everything to go back to normal, but I don't even understand why [spoiler]
Persephone died? It was because she went between the mirrors right? BUT WHY DID SHE DO IT BY HERSELF. Gah it is so frustrating. Sure I didn't really "know" her but it hurts a bit.
[end spoiler] So yes, there you have it.
In conclusion, Blue Lily, Lily Blue was beautiful and emotional, and I just have so many questions that I HOPE are all answered in the next book. I need the next book. I NEED IT.