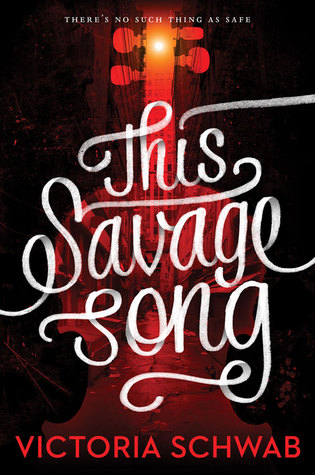 This Savage Song by Victoria Schwab
Monsters of Verity #1
Publish
er: Greenwillow Books
Release Date: July 5th, 2016
Source: ALA Midwinter
Date Read: 6/24/16 to 6/30/16
464 pages
There's no such thing as safe in a city at war, a city overrun with monsters. In this dark urban fantasy from author Victoria Schwab, a young woman and a young man must choose whether to become heroes or villains—and friends or enemies—with the future of their home at stake. The first of two books.

Kate Harker and August Flynn are the heirs to a divided city—a city where the violence has begun to breed actual monsters. All Kate wants is to be as ruthless as her father, who lets the monsters roam free and makes the humans pay for his protection. All August wants is to be human, as good-hearted as his own father, to play a bigger role in protecting the innocent—but he's one of the monsters. One who can steal a soul with a simple strain of music. When the chance arises to keep an eye on Kate, who's just been kicked out of her sixth boarding school and returned home, August jumps at it. But Kate discovers August's secret, and after a failed assassination attempt the pair must flee for their lives.
I received this ARC in exchange for an honest review. Quotes taken from ARC may or may not be in the published edition.

I'm this close to having this review be only three words. Because I am not even sure how to go about reviewing this. I loved this, do I really need to say more? How many synonyms do I need to find to express the amazingness that is this book?

Let me try to sum it up. The city of Verity is divided between two factions, the North and the South, held together by a shaky truce. In control of the North Side is Harker, a man who demands money from families for protection against the monsters, the Corsai, the Malchi, and the Sunai. Managing to bring the Malchi and Corsai under his control, Harker is allowed to make the rules as to who dies and who lives. The Sunai side with Henry Flynn on the South side. Although scarce, they are considered the more powerful of the three, able to feed on the souls of sinners. With them in the South, both sinners and monsters are kept in check.

August is one of those Sunai, a monster that represents justice. Since monsters come from the shadows of living sinners, they must be killed. Under the "protection" of Henry Flynn, he is sent out to kill them with his music. His Sunai brother, Leo, convinces him to spy on Harker's daughter, Kate, over on the North Side at Colton Academy. Problem is, he has to pretend to be human or else risk getting caught.

Those two little paragraphs above does no justice at all. There are many, many details missing. Ones that make this whole story much more complex than it seems. So much thought was put into this, and I just absorbed it all.

I loved August. He is a monster, but he is also a human.

I loved Kate, who only wanted her father's respect.

I loved when the two were together. I wanted Kate to finally figure out who, or what, he was. I couldn't wait to see how everything would turn out when both August and Kate had to escape from the Malchi chasing them.

I wanted to know more, about everything. What is the Phenomenon that caused the monsters to form from human shadows? What is it like outside of Verity City? And since most of the novel focuses on the North side, what is it like in the South? Seriously, when is the next book coming out?

This Savage Song was just much more unique than I could have ever imagined. With monsters, with music, with all around death, this book is beyond astounding. There is really no other way to put it.