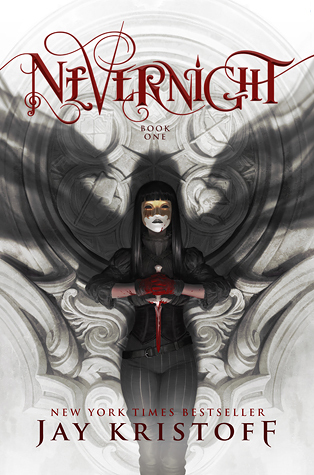 Nevernight by Jay Kristoff
The Nevernight Chronicle #1
Publish
er: Thomas Dunne Books
Release Date: August 9th, 2016
Source: Netgalley
Date Read: 7/19/16 to 7/20/16
448 pages
In a land where three suns almost never set, a fledgling killer joins a school of assassins, seeking vengeance against the powers who destroyed her family.

Daughter of an executed traitor, Mia Corvere is barely able to escape her father's failed rebellion with her life. Alone and friendless, she hides in a city built from the bones of a dead god, hunted by the Senate and her father's former comrades. But her gift for speaking with the shadows leads her to the door of a retired killer, and a future she never imagined.

Now, Mia is apprenticed to the deadliest flock of assassins in the entire Republic—the Red Church. If she bests her fellow students in contests of steel, poison and the subtle arts, she'll be inducted among the Blades of the Lady of Blessed Murder, and one step closer to the vengeance she desires. But a killer is loose within the Church's halls, the bloody secrets of Mia's past return to haunt her, and a plot to bring down the entire congregation is unfolding in the shadows she so loves.

Will she even survive to initiation, let alone have her revenge?
I received this ARC in exchange for an honest review. Quotes taken from ARC may or may not be in the published edition.
I've been putting off writing this review because I already
know
I'll be repeating myself over and over again, saying how amazing Nevernight is.
First off, not only does it revolve around assassins, but there's also a school that trains them all, called
The Red Church
. Honestly, it reminds me of Hogwarts, but
less safe.
Don't expect to come out of this book with all your faves alive, because it just won't happen.
Mia has been training to attend The Red Church ever since her family was taken away from her. In order to get back at the ones responsible, she aims to succeed at the "school" and become one of the Blades of the Lady of Blessed Murder. But to do that, she has to overcome a number of trials, decide whether love is worth it or not, pick her friends and enemies. Plus it doesn't help that students are dying left and right, whether it's due to murder or class. Honestly, Nevernight has been one of the more bloodier books I have read in awhile.
Let's go into more detail about what I liked! (Surprisingly there were a lot that I can pinpoint, and that makes writing this review so much easier! Go me.)
There is a talking cat. Technically it is not a cat, but it didn't make a difference to me. I love talking cats. I love talking sassy cats. I don't know exactly why I love them so much, but nothing can go wrong with them.
Blood, gore, just the fact that no one is safe in this book. No one. You have a favorite character in one chapter? They're gone in the next (somewhat of an exaggeration haha). All I'm saying is that Nevernight really keeps you on your toes. It really was never boring.
That's it, that's the book
The flashbacks gave more depth to Mia, especially as to how she acquired her shadow-y (not) cat in the first place. They took place between chapters, especially at the start of the novel.
Oh, sex (yay! wooo!). I would say there's two pretty graphic scenes. So if you're not into that stuff, then don't read this or maybe skip those parts.
And of course let's not forget about about our love interest Tric. Although I liked him as one, I can't say that I have strong feelings about him.
The twist that killed me. Books like Nevernight are why I have trust issues.
And there we go! Did I mention that I read most of Nevernight in one day? Because that happened. Also, I have to mentioned that I may have skipped reading most of the footnotes. And I still loved it. So if you happen to also have an eARC (or an ebook of it I suppose? I don't know if the placement will be changed), then don't worry about them! I'll probably check out the footnotes later but I don't think you miss much.
I went into Nevernight blind, not sure at all whether I would like it or not. But here I am now, raving about its awesomeness.