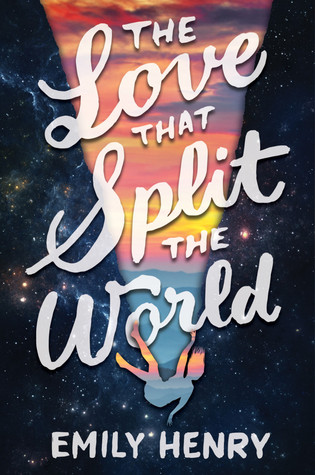 The Love That Split the World by Emily Henry
Publish
er: Razorbill
Release Date: January 26th, 2016
Source: Sunday Street Team
Date Read: 11/5/15 to 11/9/15
400 pages
Natalie Cleary must risk her future and leap blindly into a vast unknown for the chance to build a new world with the boy she loves.

Natalie's last summer in her small Kentucky hometown is off to a magical start…until she starts seeing the "wrong things." They're just momentary glimpses at first—her front door is red instead of its usual green, there's a pre-school where the garden store should be. But then her whole town disappears for hours, fading away into rolling hills and grazing buffalo, and Nat knows something isn't right.

That's when she gets a visit from the kind but mysterious apparition she calls "Grandmother," who tells her: "You have three months to save him." The next night, under the stadium lights of the high school football field, she meets a beautiful boy named Beau, and it's as if time just stops and nothing exists. Nothing, except Natalie and Beau.

Emily Henry's stunning debut novel is Friday Night Lights meets The Time Traveler's Wife, and perfectly captures those bittersweet months after high school, when we dream not only of the future, but of all the roads and paths we've left untaken.
Goodreads | Amazon | B&N | Book Depository
Emily Henry is full-time writer, proofreader, and donut connoisseur. She studied creative writing at Hope College and the New York Center for Art & Media Studies, and now spends most of her time in Cincinnati, Ohio, and the part of Kentucky just beneath it. She tweets @EmilyHenryWrite.
I received this ARC in exchange for an honest review. Quotes taken from ARC may or may not be in the published edition.
I'm incredibly happy that I will be starting off the new year with a review of The Love That Split The World, which, in my opinion, lives up to the hype. Although it may seem like a contemporary based on the title, it incorporates tons of sci-fi-esque elements. And that is what
really got me hooked.
Let's start with Natalie, our main character who suffers from what numerous therapists call hallucinations. Every time she has an episode, she meets an old lady who calls herself "Grandmother", who knows everything about everything. She warns Natalie of the future through her cryptic stories, all so that she can save the one she loves.
And this is where Natalie meets Beau, or more specifically,
finds him
. Both find each other an anomaly, seeing that 1) Beau is visiting from "another" Union, Kentucky, and 2) Natalie does not exist in his world, yet everyone else does. And this applies to Natalie as well. The both of them find ways to travel to each other's worlds, however, what will happen when they no longer can?
I flailed, I cried, I was inspired, I felt torn apart by all these feels. This entire book was too much for my poor heart, and yet I would read it again. I
adored the uniqueness of the story
, the fact that this wasn't strictly a contemporary, but it also didn't drown me in scientific terms.
Also,
the novel did not skimp out on characterization.
Natalie, as a Native American adopted by another family, has never felt like she belonged. She always aimed to not be a burden to her adopted parents, trying to find a way to validate who she was as a person, and to see herself reflected in other people. But when that doesn't happen, she isolates herself. Her therapist Alice, or really a research professor interested in Natalie's hallucinations, plays a huge role in getting Natalie to realize this about herself.
"You're not missing something. You're not broken. Your grand identity will not be revealed to you like a bolt of lightning. It's okay to be scared. Your big feelings are powerful. But it's not okay to hide, especially when what you want more than anything is to be known. Don't shut down. Stick this out. Woman up, tell your parents what you're doing, and stay until we finish this."
Natalie has a best friend, named Megan. It was fun to see the different personalities of Megan when coming to and from the different worlds. Without Natalie, Megan was somewhat meaner, and less fun. And also, surprise, in a relationship with Natalie's current boyfriend, Matty. However, with Natalie, she was much more funny, entertaining, and an overall great friend.
Miss you so much it hurts.
Seconds later, she texts back, The feeling is mushrooms, followed by a second text reading. Yes, autocorrect, I meant to say mushrooms, not mutual. Good catch.
In this regard, the book
really reminded me of Parallel by Lauren Miller.
Except that rather than decisions, the future changes based on whether a person exists or not.
Then, there's Beau. I fell for their relationship hard, and in the end I sobbed bucketfuls.
I did not think that there could be a book that would make me feel all these emotions,
whether it was laughter, happiness, frustration, or just TEARS. Like who has the right???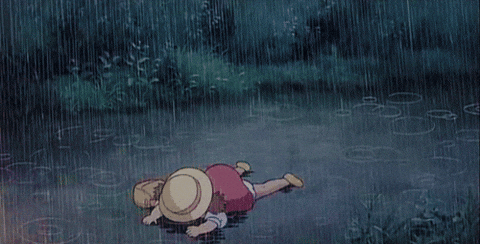 Speaking about frustration,
the explanation for everything is about seven pages long, both front and back.
Although this is the only gripe I have, reading this in the middle of the night hurt my brain a little bit. None of it really made sense until I went back to it again later for another read through. Yet even with that, I had to write out a bunch of notes to fully process why everything was the way it was.
To sum up my somewhat long review (how did it turn up like this?), you
must read this book
. The uniqueness, the feels, the characters, all of it outweighs the bad, which wasn't even that bad in the first place. I'm sure that after you read this, you'll come back here in tears and ask "Why would you recommend such a book to me Val? WHY", and I'll just be sobbing with you. Still.
This review of The Love That Split the World was made possible by Sunday Street Team! (And readers like you. Get it?)