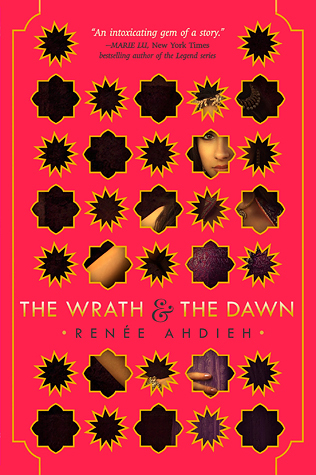 The Wrath & The Dawn by Renee Ahdieh
Publish
er: G.P. Putnam's Sons Books for Young Readers
Release Date: May 12th, 2015
Source: Library
Date Read: 12/10/15 to 12/13/15
388 pages
One Life to One Dawn.

In a land ruled by a murderous boy-king, each dawn brings heartache to a new family. Khalid, the eighteen-year-old Caliph of Khorasan, is a monster. Each night he takes a new bride only to have a silk cord wrapped around her throat come morning. When sixteen-year-old Shahrzad's dearest friend falls victim to Khalid, Shahrzad vows vengeance and volunteers to be his next bride. Shahrzad is determined not only to stay alive, but to end the caliph's reign of terror once and for all.

Night after night, Shahrzad beguiles Khalid, weaving stories that enchant, ensuring her survival, though she knows each dawn could be her last. But something she never expected begins to happen: Khalid is nothing like what she'd imagined him to be. This monster is a boy with a tormented heart. Incredibly, Shahrzad finds herself falling in love. How is this possible? It's an unforgivable betrayal. Still, Shahrzad has come to understand all is not as it seems in this palace of marble and stone. She resolves to uncover whatever secrets lurk and, despite her love, be ready to take Khalid's life as retribution for the many lives he's stolen. Can their love survive this world of stories and secrets?
Well, I waited a long time to review this. I'm not exactly sure why? Because I
really liked
The Wrath and The Dawn. I was drawn into the characters, the story, and I can say with certainty that this is a backlist book that you should get to (in reference to all the posts and people saying they want to read more backlist titles. READ THIS). No peer pressure.
You may not think this,
but a lot of things happen in this novel.
At least more than I thought. First, our main character, Shahzard, volunteers to be the bride of the Caliph of Khorasan, who is known to kill his brides at dawn after the ceremony. "Why does she do this?" you may ask? Well to get revenge for her
best friend
of course, who was killed by him. So she has
a plan
, which is to survive and kill him. By telling him a story that doesn't have an end, she forces him to come back each night, and leave her alive to hear the rest. And although there were a few close calls, she never foresaw that she would end up falling in love. Big whoops there for her.
The characters were what really made this novel. Shahzard was a strong, determined young woman with a thirst for revenge. She carefully scouted out the palace, and tried to find weaknesses in Khalid. But then she's torn on whether she should avenge her best friend, or stay with the killer.
And then, like I said before,
this isn't the only plot.
There's also a rebellion brewing in the outskirts of Khorasan. Fathers and mothers are tired of sending their daughters to be wives, only to be killed the next day. If I were a parent, I would have been pissed too if my child was slaughtered for no reason at all, so I totally understand their motives. But here's the thing, this rebellion was sparked by Tariq, Shahzard's previous "lover". He is completely convinced that she needs his help, when that isn't the case at all. (In fact he makes it much worse, andddd I hate him, but that's besides the point).
However, at times, I felt a little frustrated because how long could Khalid, our Caliph and love interest, keep his huge, dark secret from Shazi? The build up for it was huge, which was why when it was all revealed, I felt a
little underwhelmed.
I just thought there would be more to the whole thing.
The Wrath and The Dawn was a great read, and I enjoyed it immensely. Plus, I
need
the sequel with an ending like that!