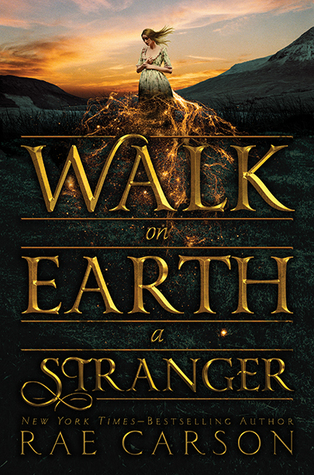 Walk On Earth A Stranger by Rae Carson
The Gold Seer Trilogy #1
Publish
er: Greenwillow Books
Release Date: September 22nd, 2015
Source: Edelweiss
Date Read: 1/2/16 to 1/4/16
432 pages
Gold is in my blood, in my breath, even in the flecks in my eyes.

Lee Westfall has a strong, loving family. She has a home she loves and a loyal steed. She has a best friend—who might want to be something more.

She also has a secret.

Lee can sense gold in the world around her. Veins deep in the earth. Small nuggets in a stream. Even gold dust caught underneath a fingernail. She has kept her family safe and able to buy provisions, even through the harshest winters. But what would someone do to control a girl with that kind of power? A person might murder for it.

When everything Lee holds dear is ripped away, she flees west to California—where gold has just been discovered. Perhaps this will be the one place a magical girl can be herself. If she survives the journey.
I received this ARC in exchange for an honest review. Quotes taken from ARC may or may not be in the published edition.


Hello there! Another September ARC review. But this one I ended up really enjoying a lot, especially seeing how I loved playing the Oregon Trail PC game as a kid, so this definitely brought up feelings of nostalgia. And although it was not exactly what I expected, I'm still excited to read the rest of the series!
Let's start with what's known from the synopsis. Leah, also known as Lee, has "witchy" powers in that she can sense gold, allowing her to bring a little bit of wealth into her family. Unfortunately, those who know of her powers want the gold for herself, which brings us to the murder of her parents. Coincidentally, this occurs right as news of gold in the west arrives, and as her Uncle moves down south to take over. As Leah puts two and two together, she comes up with the plan to disguise herself as a man and run away to California.
As with Shannon, I used to play the game Oregon Trail a lot when I was younger, so I quite enjoyed this novel. From my experiences of a computer game (lol), I applaud the accuracy of traveling across the country in a company. It wasn't like "And then we passed here and here", but more detail was brought to the wagons, and each family in the company. Surprisingly, I grew accustomed to the huge number of characters I had to keep track of, and instead, found a way to tell them apart from each other. Each family had their own characteristics, which allowed me to be fully drawn into the story, as if I were there.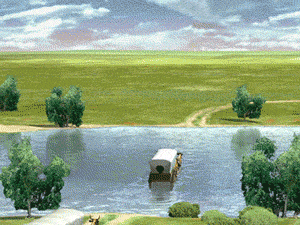 However, I didn't particularly like how unbelievable some bits of the story was. First, the coincidence of Leah's best friend/romantic interest, Jefferson, working for the same family Leah was working for, the Joyners seemed incredibly unbelievable. Both Jefferson and Lee left Georgia to head to Independence on different days. Along with major bumps along the way, it seems a little unbelievable that both of them found each other in the end. The second coincidence, [spoiler]

was the presence and confrontation of Uncle Hiriam in California. There was definitely a higher chance that Lee would have never seen him again. But apparently California is

not too big of a place.

[

end spoiler]

It's a small world!
Along with this, I felt that the pacing from Georgia to Independence went a little too fast for me. And then all of a sudden, it slowed down immensely during the time where Leah is with the company. I know there is no way a book could fit everything without being boring or super long, but it felt like the pacing itself was incredibly unbalanced.
Although it seems like these two points bothered me, I overlooked them because of the overall story and characters, especially the transformation of Mrs. Joyner by the end of the novel. I recommend Walk On Earth A Stranger to all lovers of the Oregon Trails, and also anyone who is a fan of Under A Painted Sky. However, while saying this, I do have to mention that Lee's gold-seeking powers are not a major focus of the novel, but rather stay in the background. But this in no way affects my enjoyment of the novel! (But it might for you, which is why I am saying that now).