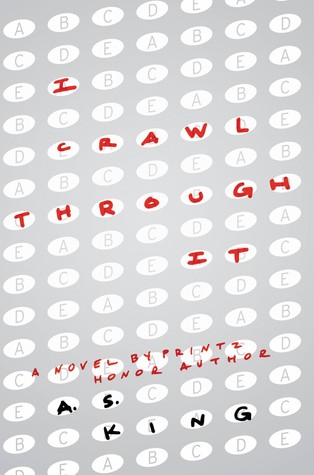 I Crawl Through It by A. S. King
Publish
er: Little, Brown Books
Release Date: September 22nd, 2015
Source: Netgalley
Date Read: 12/18/15 to 12/20/15
336 pages
A boldly surreal novel from one of the best YA writers working today.

Four talented teenagers are traumatized-coping with grief, surviving trauma, facing the anxiety of standardized tests and the neglect of self-absorbed adults—and they'll do anything to escape the pressure. They'll even build an invisible helicopter, to fly far away to a place where everyone will understand them... until they learn the only way to escape reality is to fly right into it.
I received this ARC in exchange for an honest review. Quotes taken from ARC may or may not be in the published edition.


I'm not exactly sure how I should go about my review of I Crawl Through It. It is an interesting read, one that I'm sure completely flew over my head. Nevertheless, it was eye-opening (I think??), and I think I can say I got the overall concept. Maybe?
Stanzi, Gustav, China, Lansdale. One has completely swallowed herself, so at most times you can only see her organs. Another is a compulsive liar. I'm not exactly sure what were the problems of the other two, but I know it all has to do with the pressures of society. Either way, it is enough to cause all of them to seek ways to escape their problems. Like, for example, building an invisible helicopter.
Throughout the entire novel, I tried to figure out the metaphor. Believe me, I put all my efforts into this, because I knew that this would be a little weird. But every time I got even a little bit close to, for example, figuring out the symbolism behind China swallowing herself, something new would pop up telling me otherwise. And the invisible helicopter? Being able to only see it one day but not the other? I'm just not exactly sure what to think of it? I think the closest I can get in an explanation is that every single event, every character, even the adults themselves, are metaphors.
Now that I think about it, the synopsis itself is what this book is symbolizing. And the whole book is a metaphor in itself.
Yeah I don't know. I have no idea.
So, let me get back to the review and out of metaphor-land. I Crawl Through It isn't for the weak-hearted. It's not an easy read, and you need to have a grasp on the symbolism of the book in order to fully understand what is going on. Or you can just read it literally, that works too.
I don't regret reading this, but I would like to be enlightened. I understand the overall message, but I want to know what the characters and their actions represent. Off I go to read other reviews!