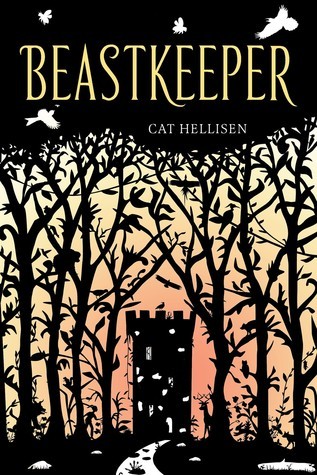 Beastkeeper by Cat Hellisen
Publisher: Henry Holt and Co. (BYR)
Release Date: February 3rd, 2015
Source: Library
Date Read: 4/14/15 to 4/15/15
208 pages
Rating:

✰
✰
✰
✰
Sarah has always been on the move. Her mother hates the cold, so every few months her parents pack their bags and drag her off after the sun. She's grown up lonely and longing for magic. She doesn't know that it's magic her parents are running from.

When Sarah's mother walks out on their family, all the strange old magic they have tried to hide from comes rising into their mundane world. Her father begins to change into something wild and beastly, but before his transformation is complete, he takes Sarah to her grandparents—people she has never met, didn't even know were still alive.

Deep in the forest, in a crumbling ruin of a castle, Sarah begins to untangle the layers of curses affecting her family bloodlines, until she discovers that the curse has carried over to her, too. The day she falls in love for the first time, Sarah will transform into a beast . . . unless she can figure out a way to break the curse forever.
Goodreads | Amazon | B&N | Book Depository
Are you looking for a wonderful, happy fairy tale? One with a happy ending and all that jazz? Well then, you are in the wrong place! If you thought this would be a cute MG retelling, you are wrong.
Beastkeeper is a nice, quick read about a girl, Sarah, longing for magic, but unfortunately she really doesn't know what she's asking for. Once she encounters it through a family curse, one that turns her grandfather, her father, and even herself into a beast if their first love doesn't love them. After finding that out, after living a semi-normal life, who wouldn't want to go back to being ordinary?
I used to be a huge fan of Newgrounds, a site dedicated to animated shorts and movies. One of the animated movies I watched featured this character, Bitey the last of the Dashkin. So the whole "beast" concept really reminded me of him. Art link on image.
There are a number of aspects I loved about this dark MG, one being that it questions the little things other fairy tales often ignore. How are curses passed down through the family? Who does it affect? What happens if love doesn't last? Is love real if it's only based on outside beauty? Do happy endings actually exist?
The curses in the book all revolve around the two families, and it's fascinating to see how everything weaves together and affects one another. So many coincidences! And it's all up to Sarah to fix everything, which ends up seeming more and more impossible as the story goes on. I did like Sarah, but I was more fixed on the whole story rather than the characters. Though I do want to know more about Alan, even though I may or may not hate him.
Also, guess what? No romance! Don't get me wrong, I love romance sometimes, but I'm just glad this didn't have any because it doesn't need it. And yes it is MG, which is why. The focus was on the plot and the story, and no meaningless fluff was added in to detract from that. My one gripe is that I'm not entirely sure I understood the ending, but that is so typical of me. And also, when does this take place? At first I thought it was in our normal world, but then we were whisked away to this medieval, forest like place which held a lot of magic, and from then on I didn't know when or where.
Beastkeeper was overall, executed very well, and it's a great refreshing take on retellings, even if it isn't exactly a happy one.