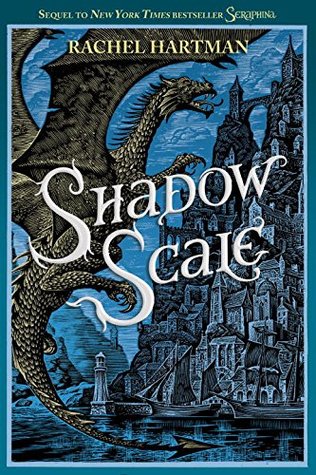 Shadow Scale by Rachel Hartman
Seraphina #2
Publisher: Random House Children's Books
Release Date: March 10th, 2015
Source: Netgalley
Date Read: 3/23/15 to 3/26/15
608 pages
Rating:

✰
✰
✰
✰
The kingdom of Goredd: a world where humans and dragons share life with an uneasy balance, and those few who are both human and dragon must hide the truth. Seraphina is one of these, part girl, part dragon, who is reluctantly drawn into the politics of her world. When war breaks out between the dragons and humans, she must travel the lands to find those like herself—for she has an inexplicable connection to all of them, and together they will be able to fight the dragons in powerful, magical ways.

As Seraphina gathers this motley crew, she is pursued by humans who want to stop her. But the most terrifying is another half dragon, who can creep into people's minds and take them over. Until now, Seraphina has kept her mind safe from intruders, but that also means she's held back her own gift. It is time to make a choice: Cling to the safety of her old life, or embrace a powerful new destiny?
Goodreads | Amazon | B&N | Book Depository
I know I specifically read Seraphina just to read the sequel, but come on, some readers have been waiting FOREVER for a sequel. Honestly I would've thought it would be fine as a standalone, but maybe everyone else thinks otherwise.
Don't miss the first installment, Seraphina!
Because as much as I hated the audiobook, I still think it was an awesome read. Plus I mean by now you must have HAD to heard about it.
This is a pretty spoiler-free review! But I do suggest reading the first book.
Oh what to say, what to say.
Let's start with the good bits. First off, we get to see Seraphina! Again! Which I can't complain about! She's on a new adventure to bring together the half dragons in order to defend Goredd from the soon to be upcoming Dragon civil war that is brewing in their homeland. Too bad one of her grotesques, Jannoula, who are all representations of real people in real life, has started
causing trouble,
for, oh, basically everyone. No one really knows
whose
side she's really on, but it can't be good.
Random Toothless gif because Toothless
I loved meeting all the new half-dragons, and also bonding with Abdo, because he is just a squishy little ball of cuteness. Oh I just want to hug him.
However, as happy as I am for the continued adventure and the plot surrounding Jannoula and her "evildoings", I am NOT HAPPY with Lucien Kiggs. NOT AT ALL. First of all, he 1) Barely appears in the book, and when he does 2) LEAVES AFTER LIKE, what, 5 MINUTES? So yeah, I am not okay with this. In fact, my major gripe with this sequel is the ending.
Major spoilers, highlight at own risk!
Not only does the romance barely progress throughout the story (I want to say there is none AT ALL), but that ending is literally almost the exact ending as Seraphina. 1) Lucien says he will still marry Glisselda, and 2) Orma is basically lost and still needs to be recovered, his mind at least. SO WHAT WAS THE FREAKING POINT OF THIS BOOK?
Sorry I tend to get carried away with these things
I mean honestly, I'm glad there was a sequel, and I enjoyed it immensely, I was just, oh I don't know, EXPECTING MORE from everything. I didn't get enough and now I want more and I am sad.