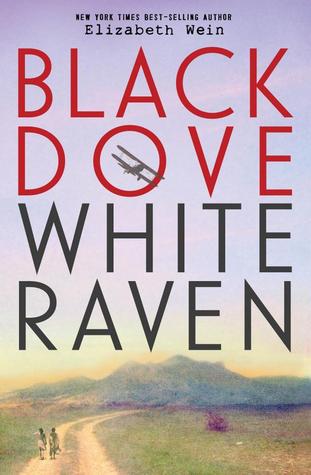 Black Dove, White Raven by Elizabeth Wein
Publisher: Disney Hyperion
Release Date: March 31st, 2015
Source: Library
Date Read: 4/16/15 to 4/22/15
368 pages
Rating:

✰
✰
✰
✰
Emilia and Teo's lives changed in a fiery, terrifying instant when a bird strike brought down the plane their stunt pilot mothers were flying. Teo's mother died immediately, but Em's survived, determined to raise Teo according to his late mother's wishes-in a place where he won't be discriminated against because of the color of his skin. But in 1930s America, a white woman raising a black adoptive son alongside a white daughter is too often seen as a threat.

Seeking a home where her children won't be held back by ethnicity or gender, Rhoda brings Em and Teo to Ethiopia, and all three fall in love with the beautiful, peaceful country. But that peace is shattered by the threat of war with Italy, and teenage Em and Teo are drawn into the conflict. Will their devotion to their country, its culture and people, and each other be their downfall or their salvation?
Goodreads | Amazon | B&N | Book Depository
It honestly does not come to a surprise that I loved Black Dove, White Raven so much. I mean, after Code Name Verity and Rose Under Fire, there was no way I wasn't going to love this other historical fiction masterpiece.

Oh boy where do I start? Let's see. Well this particular story takes place mainly in Ethiopia, where things are getting more and more tense with Italy, a country that takes pride in attempting to colonize the last self-governed African country (in other words, invade them). But let's take a few steps back to when Teo and Emilia come into play.


Teo and Emilia are born to the original Black Dove and White Raven, Teo's mother Delia and Emilia's mother Rhoda. Both are amazing, stunt airplane flyers; performing acrobatic acts in the sky. But after a tragic accident that leaves Teo motherless, Rhoda takes him in, and then promises both him and Emilia that they will fulfill Delia's dream of moving to Ethiopia, Teo's homeland.


But with all of Wein's works, things take a turn for the worse. War starts, Emilia and Teo remain stuck in Ethiopia, their mother refuses to teach them how to fly. But even so, Emilia and Teo still hang on and they become the second generation of Black Dove and White Raven. AND MY HEART. Even though at first they were just drawing comics and making up stories, you could see how they portrayed themselves through their own characters, Black Dove and White Raven, so well. Teo just so badly wanted to remain invisible in America, and now that he's finally in Ethiopia, he can. Emilia is now the one who stands out, but she still aspires to be the master of disguise that White Raven is in the comics.
Can't handle them, my babies
Character development is gold. Absolute perfection. I was incredibly impressed with the way Emilia overcame all her fears and became her version of White Raven, and not just simply imitating her mother. Even though the story is narrated through both of Emilia and Teo's flight logs, the majority of it is from the perspective of Emilia.
Did I mention how badly I want to own a small plane now because of all of these books I've read by Elizabeth Wein? Well, I want one.
BUT NOT LIKE THIS HAHAH OH GOD
The only reason this isn't getting the full 5 stars from me is just because it didn't have as many feels as her other books. I know it's not fair to compare books by the same author, but I have high expectations haha. I mean I love love LOVE Emilia and Teo and would love to spend more time with them, but I definitely felt more with Code Name Verity and also Rose Under Fire. But man this novel was something. I'm kind of upset I haven't seen many reviews for this! Come on now.
I worship Elizabeth Wein. Write more please. Yes. Thanks.