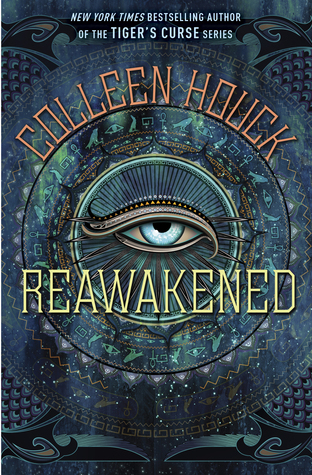 Reawakened by Colleen Houck
Publisher:

Delacorte Press
Release Date: A

ugust 11th

,

201

5
Format

: L

ibrary
Date Read:

8

/

20

/15 to 8/

21

/15
400

pages
When seventeen-year-old Lilliana Young enters the Metropolitan Museum of Art one morning during spring break, the last thing she expects to find is a live Egyptian prince with godlike powers, who has been reawakened after a thousand years of mummification.

And she really can't imagine being chosen to aid him in an epic quest that will lead them across the globe to find his brothers and complete a grand ceremony that will save mankind.

But fate has taken hold of Lily, and she, along with her sun prince, Amon, must travel to the Valley of the Kings, raise his brothers, and stop an evil, shape-shifting god named Seth from taking over the world.
Goodreads | Amazon | B&N | Book Depository
After much thought about my rating of Reawakened, I've decided to settle with a 3.5. This actually comes as a surprise to me because not only did I spend $1 to reserve this at the library, but I also read this in one day. Well, close to one day. Yet even with all the heavy Egyptian mythology influences throughout, I really couldn't help but notice all of the flaws. And the more the book sat on my mind, the more I felt mixed about it.
But I can admit that the cover is absolutely gorgeous





The story stars Lilliana Young, and her inability to break away from her parents' expectations. Yet when she stumbles upon a very live mummy, Amon, her whole life spins out of control. She ends up traveling with him to Egypt, in order to resurrect his brothers and save Egypt from the god Seth (Though why is it not 'Set'? The actual Egyptian name)
Let me start with the good. I loved the fast-paced action, from Lily's discovery of the tomb, to traveling to Egypt, to entering restricted areas in the pyramids, and lastly the "final" battle, which I'm sure won't be final since this is a series. Nevertheless, I was never bored.
And let's not forget the whole reason I read this book in the first place! Egypt! Mythology! The moment I heard about this book, I immediately thought of that kids TV show, Tutenstein. I never religiously watched it because I didn't have TV, but I always
wanted to watch it as a kid.
But minus the hilarity of the show, it's similar in plot to this YA book.
As much as I wanted to LOVE this, I couldn't shake off the little things here and there. Like first off, the amount of times Lily thought she looked horrible and the amount of times Amon mentioned she was beautiful was just overkill. I would say that maybe 30% of the book focused on appearance, from Lily's looks to Amon's beautiful bod, to even his brothers, which were completely unnecessary. I'm sure there could have been a way where only Amon was needed to complete the ritual. But no, let's just make this a reverse harem.
Also,
Amon seems a little like a Gary Stu
. He has so many different kinds of powers. Like the hypnotism makes things a
little too convenient
. What is this?
Molly Moon's Incredible Book of Hypnotism
? (Which is getting a movie by the way and yes I am watching it)

And look at this fun, cringeworthy compliments.


The truth is, if I could bottle your water-lily scent and carry it with me as I wandered the desert, even if I was sick from the sun and dying from thirst, only to be saved by a desert sheikh who wished to barter for it, and even should the trading of it save my life, I would not part with it for all the jewels, silks, and precious riches of Egypt and all the lands surrounding it. So to say your scent is pleasant to me is an understatement most villainous.
BARF.
And also, I wasn't a fan of what's his name minor character who basically was the filler of info on everything Egyptian related. Wow I don't even remember his name. Darn for this being a library book.
Overall, I wish this was better executed. I wish the characters were more than just their looks. Plus I felt that Lily's problems with her parents weren't really something I would call problems. Just annoyances. Actually, I had the same problem that she had, but I didn't need a trip to Egypt with a hot mummy to stop listening to my parents. Nope. But then again, I love the fact that Reawakened incorporated Egyptian mythology, even if it wasn't exactly accurate.