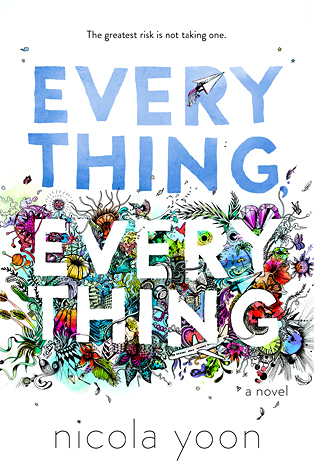 Everything, Everything by Nicola Yoon
Publisher:

Delacorte Books for Young Readers
Release Date:

September 1st

, 2015
Source: Net

galley
Date Read:

8

/

30

/15 to

7

/

2

/15
320

pages
My disease is as rare as it is famous. Basically, I'm allergic to the world. I don't leave my house, have not left my house in seventeen years. The only people I ever see are my mom and my nurse, Carla.

But then one day, a moving truck arrives next door. I look out my window, and I see him. He's tall, lean and wearing all black—black T-shirt, black jeans, black sneakers, and a black knit cap that covers his hair completely. He catches me looking and stares at me. I stare right back. His name is Olly.

Maybe we can't predict the future, but we can predict some things. For example, I am certainly going to fall in love with Olly. It's almost certainly going to be a disaster.
I received this eARC from the publisher in exchange for an honest review. All quotes are taken from Goodreads, and are assumed to be from the final publication.
If this isn't your first look at a review of
Everything, Everything
, then you'll know that there are readers that hate it, and readers that love it. I am in neither. I see the flaws, but I also see the good in this book.
Madeline, or Maddy, has Severe Combined Immunodeficiency Disease (SCID), meaning she is basically allergic to everything. She's been stuck in an allergy proof house, with no access to the outside world. And although she longs for an actual life, she knows that if she spends even 30 seconds outside, it would kill her.
And then she meets Olly, and falls in love. And all her desires and feelings she's kept suppressed throughout her entire life spring up. And now there's nothing more she wants to do but to touch Olly.
Madeline and Olly. What is there not to love about them.
I've read many more books than you. It doesn't matter how many you've read. I've read more. Believe me.
Maddy automatically gets brownie points for being a book nerd (More for loving
Flowers for Algernon
). Olly gets brownie points for having the same name as my dog (besides the spelling difference). When together, internet-wise, the two have great chemistry. Plus, their personalities show through even instant messaging.
What colour are your eyes?
Olly (O): blue
Madeline (M): Be more specific please
O: jesus. girls. ocean blue
M: Atlantic or Pacific
O: atlantic. What colour are yours?
M: Chocolate brown.
O: More specific please
M: 75% cacao butter, dark chocolate brown
O: hehe. nice
Even with Madeline's disability, the both of them find a way to make it work. It just shows that
love will find a way,
even if it doesn't seem like it.
Unfortunately, it all went down from there.
At least for me it did.
SPOILERS
Highlight to read:
Ah, the last third of the book. In no ways was this not predictable, seeing as all the reviews I've read hinted at the fact that something would happen. However, I really wasn't expecting the mother to be involved.

I was livid towards the mother. LIVID. Like if I were Maddy, I would've, oh I can't even think about it. I can't even forgive her. Ugh, I don't even know where my thoughts lie because even though I know the mother had an illness, I just can't condone what she did. She should've gotten help right away, and NOT lock away her daughter and steal her life. Like what kind of mother is that? I'm sorry but I can't.

And plus, nothing is really mentioned of SCID in the book. I still know nothing about it. Except allergies apparently? That Maddy never seems to have any problems, not even with food. Which just seems unbelievable (Well it was the case in the end)
. .
And because of that, my enjoyment of the book dropped immensely. The thing is that this can only be applied to me, which is why I'm still recommending this book.
Also, I wanted to point out how I couldn't help but notice the similarities between Everything, Everything and Rapunzel. A girl is kept isolated in a tower, or in this case a house, and her mother goes to extreme lengths to keep her safe. It's almost as if this was a fairytale retelling!
In conclusion, I wish I enjoyed Everything, Everything more than I did, though it was mostly due to my own emotions, rather than concrete flaws in the book. However, I feel like if I read more negative reviews of this, I will find myself agreeing with everything stated in them.