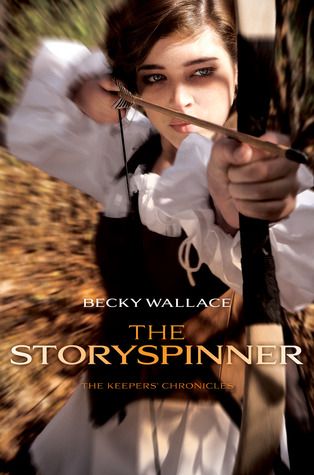 The Storyspinner by Becky Wallace
Publisher: Margaret K. McElderry Books
Release Date: March 3rd, 2015
Source: Library
Date Read: 6/15/15 to 6/18/15
432 pages
Drama and danger abound in this fantasy realm where dukes play a game for the throne, magical warriors race to find the missing heir, and romance blossoms where it is least expected.

In a world where dukes plot their way to the throne, a Performer's life can get tricky. And in Johanna Von Arlo's case, it can be fatal. Expelled from her troupe after her father's death, Johanna is forced to work for the handsome Lord Rafael DeSilva. Too bad they don't get along. But while Johanna's father's death was deemed an accident, the Keepers aren't so sure.

The Keepers, a race of people with magical abilities, are on a quest to find the princess—the same princess who is supposed to be dead and whose throne the dukes are fighting over. But they aren't the only ones looking for her. And in the wake of their search, murdered girls keep turning up—girls who look exactly like the princess, and exactly like Johanna.

With dukes, Keepers, and a killer all after the princess, Johanna finds herself caught up in political machinations for the throne, threats on her life, and an unexpected romance that could change everything.
Goodreads | Amazon | B&N | Book Depository
I kind of picked this up from the library on a whim, with absolutely no expectations at all. And I actually liked it! The Storyspinner reminded me of The Kiss of Deception, and although there were some similarities, there was more of a focus on politics and death.
The story is split between two groups. One is of Jacare, Tex, Leao, and Pari, a group of Keepers, a race that has magical abilities, while everyone else doesn't. They are on the search for a lost princess, in order to strengthen the "wall" and keep bad things out. The other group is of Johanna, her family, and Lord Rafael. Johanna grew up as a Performer, until her father lost balance during a performance and died. From then on out, her and her family have been kicked out of the Performers' group until she turns 18.
Most of the story is about politics, and how this powerful duke, Duke Inimigo, has a plan of uniting all of the lands under his control. Unfortunately, Johanna gets wrapped up with everything, especially with her performing as a storyspinner (aka elaborate storyteller) on Lord Rafael's estate. In the beginning, I wasn't sure how I would feel about all the point of views. There were at least six of them! Over time, I did get used to it, and I got more involved in the story.
Johanna is always trying her best to help her support her family, but she also is incredibly stubborn. She's pretty modest and refuses help, which is what leads to her and Rafi's hate then love relationship, which is honestly what I loved best about the story. Then on the other side, we have Leao and Pari's slow relationship, though I wish that was explored more. I think the Keeper's side of the story could have been expanded more, which hopefully will happen in the second book.
Speaking of MORE, I wanted more explanation of the Keepers, this mysterious "wall", and how it connected to a king and his heir. At first I thought the king was part of the Keepers, but then I found out he wasn't. And then I just got confused on why he mattered at all. But I'm hoping that will all be explained later.
The Storyspinner was an enjoyable read, though I wish there was more on the world-development, and how everything came to be. And also, the book ended in an incredibly random place, and I'm not sure how I feel about it. Like, it just ended....randomly, with no conclusion. You know how some first books have those "mini" conclusions, like a conclusion to an arc? Well this did not happen here. So yeah, but overall I'm glad that I picked this up!