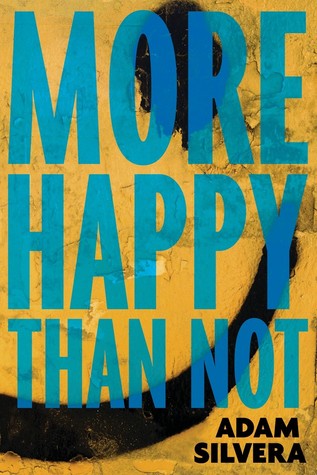 More Happy Than Not by Adam Silvera
Publisher: Soho Teen
Release Date: June 2nd, 2015
Source: Book Expo America
Date Read: 5/31/15 to 6/2/15
304 pages
The Leteo Institute's revolutionary memory-relief procedure seems too good to be true to Aaron Soto -- miracle cure-alls don't tend to pop up in the Bronx projects. But Aaron can't forget how he's grown up poor or how his friends aren't always there for him. Like after his father committed suicide in their one bedroom apartment. Aaron has the support of his patient girlfriend, if not necessarily his distant brother and overworked mother, but it's not enough.

Then Thomas shows up. He has a sweet movie-watching setup on his roof, and he doesn't mind Aaron's obsession with a popular fantasy series. There are nicknames, inside jokes. Most importantly, Thomas doesn't mind talking about Aaron's past. But Aaron's newfound happiness isn't welcome on his block. Since he's can't stay away from Thomas or suddenly stop being gay, Aaron must turn to Leteo to straighten himself out, even if it means forgetting who he is.

Adam Silvera's extraordinary debut novel offers a unique confrontation of race, class and sexuality during one charged near-future summer in the Bronx.
Goodreads | Amazon | B&N | Book Depository
I wasn't made aware of this book until I attended Teen Author Carnival in NYC, right before BEA. I sat in on the panel with Adam Silvera, and even as he pitched his book, I still wasn't fully paying attention. Even when I had the book in my hand from the Soho booth (Thanks Shannon), it didn't hit me that this would be one of my favorite reads of 2015.
The novel starts off with Aaron living in the Bronx, hanging out with his friends and his girlfriend Genevieve. Even though his life isn't perfect, especially with the death of his father, his own suicide attempt, and the fact that his friends aren't as loyal as they should be, he still makes do with what he has. He even makes a new friend, Thomas, who he ends up spending a lot of time with while Genevieve is at art camp.
Before you dive into this book thinking that it's full of fluff and happiness, I'm just letting you know right now, that it's not. The beginning of the novel is so misleading. I was completely tricked into thinking this wouldn't be a novel of unrequited love, attempted suicide, and the art of forgetting. The fact that this contemporary weaved in a little bit of sci-fi, the Leteo Procedure, was a genius move. This book reminds me a lot of Eternal Sunshine of the Spotless Mind, if anyone has seen that movie.
Aaron pulled at my heartstrings. Living in the Bronx means he can't fully be himself, which is why when he realizes his true feelings, he goes through a lot of trouble to hide it. There is a huge plot twist around the middle of the novel that I did not expect at all, which is what made this book a new favorite.
Most importantly, I think More Happy Than Not truly shows the reality of life. Not everyone will return your feelings, your friends won't always have your back, the person you may think you know isn't who they really are, and life always gets in the way. This book has opened my eyes to how hard it TRULY is for anyone outside the "social norm", especially in areas not so forgiving.
That's all I have. I wanted so badly to flail about this book, but this book is so sad and so realistic that I CANNOT NOT be serious. Also, this is the author's debut book, which is crazy, because it is so well done. Kudos to him!