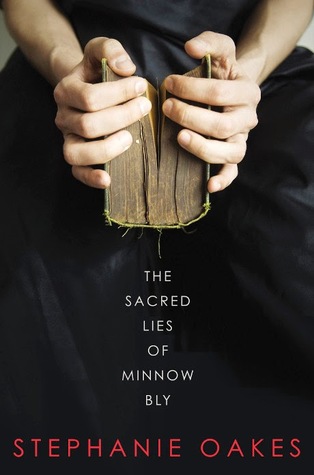 The Sacred Lies of Minnow Bly by Stephanie Oakes
Publisher: Dial/Penguin
Release Date: June 9th, 2015
Source: FFBC Blog Tour
Date Read: 4/5/15 to 4/8/15
400 pages
With a harrowing poetic voice, this contemporary page-turner is perfect for fans of Laurie Halse Anderson's Speak, Julie Berry's All The Truth That's in Me, and the works of Ellen Hopkins.

The Kevinian cult has taken everything from seventeen-year-old Minnow: twelve years of her life, her family, her ability to trust.

And when she rebelled, they took away her hands, too.

Now their Prophet has been murdered and their camp set aflame, and it's clear that Minnow knows something—but she's not talking. As she languishes in juvenile detention, she struggles to un-learn everything she has been taught to believe, adjusting to a life behind bars and recounting the events that led up to her incarceration. But when an FBI detective approaches her about making a deal, Minnow sees she can have the freedom she always dreamed of—if she's willing to part with the terrible secrets of her past.

The Sacred Lies of Minnow By is a hard-hitting and hopeful story about the dangers of blind faith—and the power of having faith in oneself.
Goodreads | Amazon | B&N | Book Depository
Stephanie Oakes is a teacher and YA author from Washington State. Her debut novel, THE SACRED LIES OF MINNOW BLY (Dial/Penguin, June 9, 2015), about a girl who escapes from a religious commune only to find herself at the center of a murder investigation, is based on the Grimm fairy tale, "The Handless Maiden."
THE ARSONIST, her second YA mystery through Dial/Penguin, is scheduled for publication in fall 2016.
Author Website
|
Goodreads
|
Twitter
|
Tumblr
The Sacred Lies of Minnow Bly
was completely different from what I expected at all. Actually, the cover reminded me of those Salem Witch Trials (which I live a couple towns over from), and though it is not about witches, it
is about a cult.
Same thing right?
This reminds me that I should keep watch AHS: Coven, I started it 2 years ago.
Minnow is part of this Kevinian cult that's in the middle of the woods. In the beginning, she follows the rules like the good little girl she is, but then over time she discovers that she's been brainwashed. And the boy in the woods who she's attracted to doesn't help. After a turn of events, Minnow ends up in juvie, which is where she tells her story to the FBI detective helping her.
To be honest, I wasn't expecting Minnow to be in juvie in the beginning. I expected a more linear narrative of what happened, without flashbacks. I didn't exactly know why she was there in the first place until more than two-thirds of the way into the novel. (I'm going to honest and say I'm starting to avoid novels about prison life because I end up pitying the characters in prison and I am also not very fond of authority and
I NEED CHAOS
). Actually, this book very much reminded me of
The Walls Around Us,
except without any paranormal aspects, and without hands.
SPEAKING OF HANDS, there were none in this book. Ha! Just kidding. But seriously, Minnow has no hands because it was punishment for fleeing the community. Books like this make me seriously question the existence of cults, and why they are exempted from the law (at least in this book). I felt bad for Minnow, but other than that, I didn't really connect with her. Sometimes I wonder if her disability should've caused more trouble than it did, but then again the emphasis wasn't on her missing body parts but more on her story.
And speaking of said story, this book
REALLY
keeps you in the dark until the last few chapters. Everything including the murder of the cult leader, to how Minnow got to juvie in the first place, and the fate of her "boyfriend" Jude. Of course, this is to be expected since the title IS
The Sacred Lies of Minnow Bly
, but it's not like the narrator was unreliable or anything, like seen in
Code Name Verity.
I did enjoy the book, even though I didn't connect to the characters. The only character I
did like
was Angel, who was Minnow's cell mate, and I actually was more interested in her story over everything else. But other than that, I'm glad that I got to read this. Thanks FFBC tours!