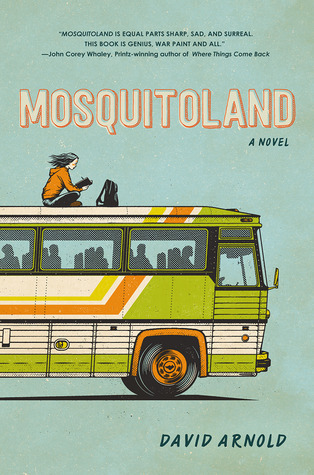 Mosquitoland by David Arnold
Publisher: Viking Books for Young Readers
Release Date: March 3rd, 2015
Source: Bought
Date Read: 6/9/15 to 6/10/15
352 pages
"I am a collection of oddities, a circus of neurons and electrons: my heart is the ringmaster, my soul is the trapeze artist, and the world is my audience. It sounds strange because it is, and it is, because I am strange."

After the sudden collapse of her family, Mim Malone is dragged from her home in northern Ohio to the "wastelands" of Mississippi, where she lives in a medicated milieu with her dad and new stepmom. Before the dust has a chance to settle, she learns her mother is sick back in Cleveland.

So she ditches her new life and hops aboard a northbound Greyhound bus to her real home and her real mother, meeting a quirky cast of fellow travelers along the way. But when her thousand-mile journey takes a few turns she could never see coming, Mim must confront her own demons, redefining her notions of love, loyalty, and what it means to be sane.

Told in an unforgettable, kaleidoscopic voice, "Mosquitoland" is a modern American odyssey, as hilarious as it is heartbreaking.
Goodreads | Amazon | B&N | Book Depository
Have you ever read a book that fits you so well, but on the other hand will most likely not appeal to everyone else's tastes? A book that is crazy, yet so believable at the same time, with the weirdness of the story hiding the true meaning of the story? Well, Mosquitoland is definitely one of those novels.
Mim, short for Mary Iris Malone, has recently discovered, unexpectedly, that her mother is currently in a hospital in Cleveland, Ohio, while she is stuck in Mississippi. Does this stop her? No. Instead, she swipes $800 from her "evil" stepmother's hiding spot, and boards a bus to Cleveland. And as you can see, the Greyhound bus is not as reliable as it should've been.
I would be lying if I said this novel was only a road trip. It's not. It's about a girl, diagnosed with psychosis supposedly (I say this because no one is certain what her diagnosis is), who despite all common sense, makes it her objective to see her mom. Along the way, life happens. She meets people that are utterly disgusting, others that are terribly sweet, and ones she never thought she would meet again.
This novel is about unexpected meetings, unexpected friendships, and unexpected kindness (in a way that isn't shown outright).
At the start of every chapter, Mim writes a letter to Isabel detailing her thoughts and feelings. Who this Isabel is, you will not know until the end, just like how you truly won't know who Mim is until you've read through the entire novel. This applies for all the characters, because they are so well developed, even though the weirdest shit happens to the trio, Walt (who has down syndrome!), Beck and Mim.
I think what may throw readers off is that the events aren't exactly believable. The side characters don't exactly have believable backstories (for one, Walt is found camping out alone in Independence, Kentucky). Plus, I was never really sure what scenes were exaggerated, and what were not. After reading many books with an unreliable narrator, I expected the same from Mim, though I'm not sure if that was the case in this....?
However, throwing all of that aside, this book is definitely a gem in a sea full of...uh...BOOKS. And sure, it's weird, but it's the good kind of weird. It's a book, where by the end, the underlying message of friendship and love and saying goodbye really hits you hard.
"We wouldn't leave you, Mim. Not like that."

"Not like what?"

"Like-high and dry." He clears his throat again. "At the very least, you'd get a liquid good-bye."