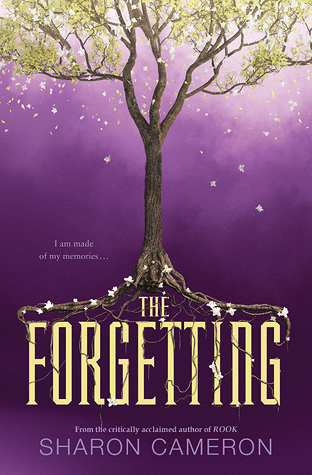 The Forgetting by Sharon Cameron
Publish
er: Scholastic Press
Release Date: September 13th, 2016
Source: Book Expo America
Date Read: 9/11/16 to 9/15/16
416 pages
What isn't written, isn't remembered. Even your crimes.

Nadia lives in the city of Canaan, where life is safe and structured, hemmed in by white stone walls and no memory of what came before. But every twelve years the city descends into the bloody chaos of the Forgetting, a day of no remorse, when each person's memories – of parents, children, love, life, and self – are lost. Unless they have been written.

In Canaan, your book is your truth and your identity, and Nadia knows exactly who hasn't written the truth. Because Nadia is the only person in Canaan who has never forgotten.

But when Nadia begins to use her memories to solve the mysteries of Canaan, she discovers truths about herself and Gray, the handsome glassblower, that will change her world forever. As the anarchy of the Forgetting approaches, Nadia and Gray must stop an unseen enemy that threatens both their city and their own existence – before the people can forget the truth. And before Gray can forget her.
I received this ARC in exchange for an honest review. Quotes taken from ARC may or may not be in the published edition.

There's something about The Forgetting that draws you in, and you're just not sure what. There was a point in the novel that really picked up, and finally, finally I got into it. And couldn't get out until the end.

Nadia lives in a world where everyone forgets every 12 years. No one knows why, no one knows how. But as long as you have your book of all your memories and experiences, you were fine. You wouldn't be considered Lost. But once that book is gone, and your memories are gone with it, how are you supposed to know who you are? Well you don't.

Trapped within the walls of Canaan, Nadia constantly escapes over the wall. Until Gray, the glassblower's son catches her in the act. The problem? Well he wants to go over with her. Of course, she agrees. The more they spend time together, the more they learn about themselves, about Nadia, about Gray, and about the origins of Canaan. And how it's really not all what it seems (surprise!).

This wasn't what I expected. At first, I didn't trust The Forgetting to get memory right. Being a cognitive scientist (officially now, I suppose), I wasn't expecting the "forgetting" part to be very accurate. And true, it's not at all. But the only reason I learned to let it go was the way the plot went. This didn't end up being a pure dystopian, as The Hunger Games was. Neither was it exactly like how the vaults operated in Fallout 4 (Not that you know about those, but basically in Fallout 4, it's post-apocalyptic. These vaults held people from before the nuclear explosion, but they were also unknowingly monitored by scientists. The Forgetting was giving me those sorts of vibes).

Because of that, my attention was held by The Forgetting. I couldn't put this down until I finished. Yet saying that, there wasn't anything remarkably amazing about it, hence only the 4 stars. It was just fast-paced, surprising in a way I didn't expect, and interesting. I didn't necessarily root for any of the characters, or care much about Nadia and Gray's relationship. They were rather "forgettable", excuse my pun I just had to do it. But still, this concept was executed pretty well, plus it's a standalone! And you don't see those everyday.