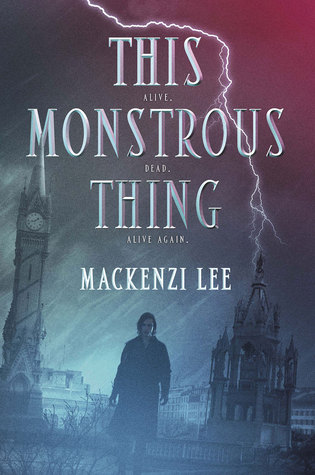 This Monstrous Thing by Mackenzi Lee
Publish
er: Katherine Tegan Books
Release Date: September 22nd, 2015
Source: Edelweiss
Date Read: 1/1/16 to 1/2/16
384 pages
In 1818 Geneva, men built with clockwork parts live hidden away from society, cared for only by illegal mechanics called Shadow Boys. Two years ago, Shadow Boy Alasdair Finch's life shattered to bits.

His brother, Oliver—dead.

His sweetheart, Mary—gone.

His chance to break free of Geneva—lost.

Heart-broken and desperate, Alasdair does the unthinkable: He brings Oliver back from the dead.

But putting back together a broken life is more difficult than mending bones and adding clockwork pieces. Oliver returns more monster than man, and Alasdair's horror further damages the already troubled relationship.

Then comes the publication of Frankenstein and the city intensifies its search for Shadow Boys, aiming to discover the real life doctor and his monster. Alasdair finds refuge with his idol, the brilliant Dr. Geisler, who may offer him a way to escape the dangerous present and his guilt-ridden past, but at a horrible price only Oliver can pay…
I received this ARC in exchange for an honest review. Quotes taken from ARC may or may not be in the published edition.


This Monstrous Thing was an enjoyable read, and I breezed right through it as my first read of the year. To be honest, I was never interested in the story of Frankenstein, and I'm sure readers who are will love this book even more so than I did. Yet even though I was invested in the story, I felt that more could have been explored, especially the setting.
After the accidental killing of his brother, Alasdair attempts and succeeds to bring back his brother from the dead using clockwork mechanics. However, once his brother, Oliver, is conscious, he's not exactly Oliver anymore. Bring in the fact that Alasdair must keep him hidden in a tower, because popular opinion is that humans with clockwork parts are not considered human anymore (following the logic of the Bible). This also leads Oliver to think himself as a monster, rather than a human.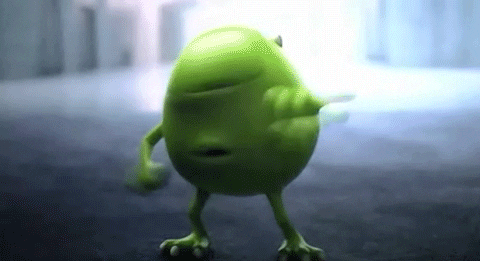 Oh, and throw in a rebellion from mechanical people tired of being oppressed. And the fact that Mary Shelley wrote a book about the brothers (yes she appears in this story!). And then all the guilt Alasdair has for accidentally abandoning Oliver during his family's arrest. Never was there a time where I was bored, hence why I just kept on reading.
Plus, the steampunk elements was definitely a plus! Though I may have wanted more.
Which leads me to why I didn't fully love This Monstrous Thing. As much as the characters grew on me, I felt that the background wasn't explored enough. Why are mechanical people so discriminated against? I would understand if it were someone brought back to life, because that is really playing God, but helping other people by replacing their limbs? I don't really see anything wrong with that? I get that religion plays a part in it, but that was only mentioned once in the book. I didn't see much of how religious the general population was in the story.
You know what this book reminded me of now that I think about it?
Full Metal Alchemist
. Just in terms of the whole "bringing someone back to life" idea.
I think it's safe to say that This Monstrous Thing definitely got me more interested in the story of Frankenstein, especially with how action-packed the plot was. Unfortunately, I just wish there was more.