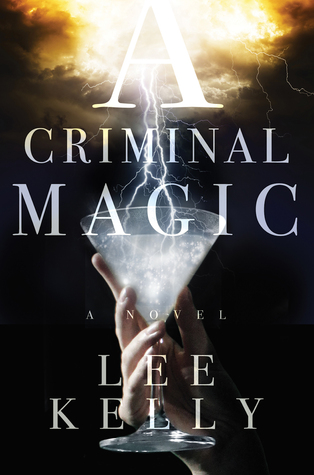 A Criminal Magic by Lee Kelly
Publish
er: Simon & Schuster
Release Date: February 2nd, 2016
Source: ALA Midwinter
Date Read: 2/1/16 to 2/7/16
432 pages
Magic is powerful, dangerous and addictive - and after passage of the 18th Amendment, it is finally illegal.

It's 1926 in Washington, DC, and while Anti-Sorcery activists have achieved the Prohibition of sorcery, the city's magic underworld is booming. Sorcerers cast illusions to aid mobsters' crime sprees. Smugglers funnel magic contraband in from overseas. Gangs have established secret performance venues where patrons can lose themselves in magic, and take a mind-bending, intoxicating elixir known as the sorcerer's shine.

Joan Kendrick, a young sorcerer from Norfolk County, Virginia accepts an offer to work for DC's most notorious crime syndicate, the Shaw Gang, when her family's home is repossessed. Alex Danfrey, a first-year Federal Prohibition Unit trainee with a complicated past and talents of his own, becomes tapped to go undercover and infiltrate the Shaws.

Through different paths, Joan and Alex tread deep into the violent, dangerous world of criminal magic - and when their paths cross at the Shaws' performance venue, despite their orders, and despite themselves, Joan and Alex become enchanted with one another. But when gang alliances begin to shift, the two sorcerers are forced to question their ultimate allegiances and motivations. And soon, Joan and Alex find themselves pitted against each other in a treacherous, heady game of cat-and-mouse.

A CRIMINAL MAGIC casts a spell of magic, high stakes and intrigue against the backdrop of a very different Roaring Twenties.
I received this ARC in exchange for an honest review. Quotes taken from ARC may or may not be in the published edition.
Holy shit
I don't know what I just read, my heart's
still
racing because of how intense this was. Sure magic is powerful and dangerous, but you know what else is? THIS BOOK. For my HEART.
Joan and Alex are on the opposite sides of the field, in a way that Joan is convinced that her magic is being used for a good thing (like getting high!), while Alex is posing as a double agent in order to stop people like his father, who distributed the drugs and profited from it. Both lead incredibly dangerous lives, with Alex risking his life every time he reports back to the Feds, and Joan risking hers by demonstrating sacrificial magic no one knows about except her family to a gangster boss. So when I say that A Criminal Magic has hell of a dangerous plot, I am not lying.
Right from the beginning, you are sucked into Joan's world. She's fending for herself and her family, but with her uncle constantly high on his own sorcerer's shine, it seems like she'll never be pay off any of their debts. Until enter in Mr. Gunn, gangster boss gathering sorcerer's for some special performances, and off she goes. And then Alex is in a similar situation except he's been in deep waters with the Feds ever since his father got caught distributing drugs. So he has to make a deal, go undercover, discover what all these gangsters are planning, and report it. And off he goes!
It wasn't only the plot that made this novel such a fantastic read for me, but
both Joan and Alex
had such great characterizations, and the fact that their history drove most of their actions made them feel like real, and solid. And
their magic.
Their magic complemented each other so well, in this way it reminded me so much of
The Night Circus
. The marketing pitch was not wrong in that way.
But there were
so many criminals.
Magic is being shipped off as drugs as a way to get high or wasted. And it was just fascinating to read about such a thing, especially since all of this takes place in the 1920s. And although there were many parties, most took place in bars and such where sorcerer's shine was brewed. I almost wanted their to be a Gatsby party with these kinds of drugs. That would have been chaotic!
Maybe my one complaint is that both Alex and Joan were near perfect in every way, but honestly, it didn't bother me as much. It helped that there were more bigger and dangerous things going on in the background.
I loved A Criminal Magic, though I am still confused as to what this is marketed as. I want to assume it is YA but it seems as it is Adult fantasy? I'm not sure and will have to look it up somewhere other than Goodreads.
But again, this was a fantastic novel.
Definitely great for fans of
The Night Circus
, and maybe even
A Darker Shade of Magic
!