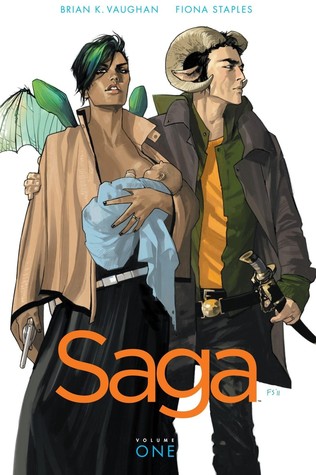 Saga, Volume 1 by Brian K. Vaughan
Publisher: Image Comics
Release Date: October 23rd, 2012
Source: Library
Date Read: 7/29/15
160 pages
Winner of the 2013 Hugo award for Best Graphic Story! When two soldiers from opposite sides of a never-ending galactic war fall in love, they risk everything to bring a fragile new life into a dangerous old universe.

From New York Times bestselling writer Brian K. Vaughan (Y: The Last Man, Ex Machina) and critically acclaimed artist Fiona Staples (Mystery Society, North 40), Saga is the sweeping tale of one young family fighting to find their place in the worlds. Fantasy and science fiction are wed like never before in this sexy, subversive drama for adults.
Goodreads | Amazon | B&N | Book Depository
First off, I want to mention that I didn't read this
particular edition,
but rather this
Saga Deluxe Edition
, which ended up going all the way to Chapter 19! It was the only edition the library had, and I rather feature this edition, which is the more prominent one, over the one I read. So yes? Yes.
Another note, this may not be suited for anyone under the age of 18. But this review is ok to read!
I loved Saga. Loved it. I'm not entirely new to graphic novels as a whole, because I've read tons of manga, but Saga is my first Western graphic novel, and it is pretty much completely different.
You're thrown into a completely different world,
and all you can do is accept it.
Robots with TV's as heads, horned people, winged people, a tree spaceship, there's nothing you can do but accept everything that's happening. And why? Because the characters are freaking fantastic. Our two main characters, Alanna and Marko, have found themselves in love and with child, even though they're on the opposite sides of a never ending war. Together, they encounter enemies and allies alike as they travel the galaxy in a tree spaceship.
What makes the story so appealing (other than the squishy baby), is the art, and the way the story is told. Not only are the character interactions entertaining, the story is also sometimes narrated by an older version of the baby, as if she were telling her life story from the beginning.
There is also the originality of, well everything. I have yet to find any similarities between Saga and anything else I have read or watched in my life. What seems to be a simple war between two species (and their allies) has a more complicated message hidden behind it.
I need more graphic novels in my life
If it isn't evident, I could not get enough of Saga, which is why I need to find the second half of the series soon. But at the same time, I don't want to finish it because of how unique it is. I didn't even care about the lack of background information, in the end it fit the overall vibe of the novel.
I'm now on a hunt for great graphic novels. I already have Ms. Marvel on my radar due to the number of times it has appeared throughout the blogosphere. And along with that, I want to read Captain Marvel as well. I have also been recommended Young Avengers and also East of West. But I still need more, since I can only rely on libraries for graphic novels (these are on the expensive side).
In conclusion, read this ASAP. It's a fast read, as it's a graphic novel and all, and the art and story are both gorgeous. SO GET ON IT!