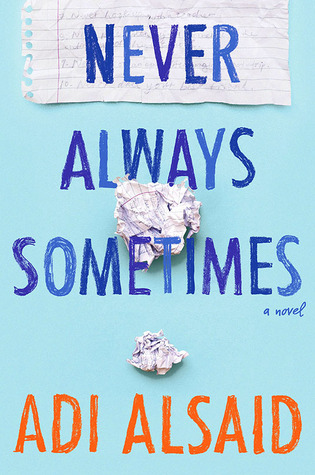 Never Always Sometimes by Adi Alsaid
Publisher:

Harlequin Teen
Release Date:

August

4th

,

201

5
Format

:

ARC
Date Read:

8

/7/15 to 8/10/15
3

20

pages
Never date your best friend

Always be original

Sometimes rules are meant to be broken

Best friends Dave and Julia were determined to never be cliché high school kids—the ones who sit at the same lunch table every day, dissecting the drama from homeroom and plotting their campaigns for prom king and queen. They even wrote their own Never List of everything they vowed they'd never, ever do in high school.

Some of the rules have been easy to follow, like #5, never die your hair a color of the rainbow, or #7, never hook up with a teacher. But Dave has a secret: he's broken rule #8, never pine silently after someone for the entirety of high school. It's either that or break rule #10, never date your best friend. Dave has loved Julia for as long as he can remember.

Julia is beautiful, wild and impetuous. So when she suggests they do every Never on the list, Dave is happy to play along. He even dyes his hair an unfortunate shade of green. It starts as a joke, but then a funny thing happens: Dave and Julia discover that by skipping the clichés, they've actually been missing out on high school. And maybe even on love.
Goodreads | Amazon | B&N | Book Depository
This ARC was given to me in exchange for an honest review. Thanks Harlequin Teen!
This book. THIS BOOK. Let me just tell it to you straight. The entirety of the book was fine, and actually really good, until I read to the end, an ending with a reason so unbelievable "cliche", that I nearly thew my book out the window. But let's hold off on that for now. Let me at least start off with the good things.
"Living A Life Less Ordinary"
No point in living a life less ordinary if you don't know what the other side looks like.

Here's the rundown. Dave and Julia are best friends, and like most best friends, they come up with a pact. To never be associated with a "cliche" high school life. Which means no designated lunch spot, no prom king or queen, no having sex with teachers (Like what, is this a thing? Please tell me no), and of course, to not date your best friend.
Senior year arrives, and surprisingly (but not so), Dave and Julia have succeeded in avoiding the cliches. But was that really a right decision? It's senior year, might as well DO THEM ALL? Right? Which is why in just one year, Dave and Julia will aim to complete all the cliches on the list, in order to live a less ordinary life. (Though apparently "a life less ordinary" is just a bunch of cliches)
Though it may SEEM like I'm unamused by the plot, I was genuinely surprised at how much I liked it. (Though I will admit I cringed at the parts where Julia tried to flirt with her teacher. That was just...uncomfortable). Dave and Julia's banter were entertaining to read as they considered which cliche to tackle next.
I also was not surprised when Dave decided to move on from his unrequited love of Julia, to a new girl, Gretchen. I felt that that was a reasonable move, considering that Julia showed no signs of interest in him in that way. Plus, it was kind of pitiful to watch Dave silently pine for Julia. Every couple pages or so there would be a line describing how beautiful she was, courtesy of Dave.
So anyways, I was fine with this. This was to be expected. HOWEVER, I was not expecting Julia to suddenly come back with an expression of love. Ugh okay, fine. Fine maybe that was to be expected. But let's talk about the ending, shall we?
Why The Title Should Be Renamed: "It's Called Guilt, Dave"
Dave's reasoning for everything that took place in the end, was horseshit.
[spoiler] I do not accept the fact that he "loved Gretchen more", or the fact that he was so hung up on her email to him, about "his heart was the one to make the decision on who to love". He spent a very long time being in love with Julia, and now that he has her, he doesn't feel right about his love?
Nope, the reason reason he doesn't feel right, is because he feels guilty for cheating on Gretchen. AND being caught in the act.
[spoiler]
Dave, stop spewing such nonsense. It is clearly guilt eating at you.

I did like Never Always Sometimes as a novel overall, but the ending clearly made no sense to me explanation-wise. Also, why would you let people write all over your white car in marker? Why? Now you have that as a reminder forever, Julia.