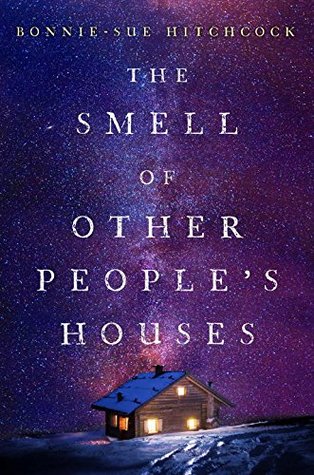 The Smell of Other People's Houses by Bonnie-Sue Hitchcock
Publish
er: Wendy Lamb Books
Release Date: February 23rd, 2016
Source: ALA Midwinter
Date Read: 2/25/16 to 2/28/16
240 pages
In Alaska, 1970, being a teenager here isn't like being a teenager anywhere else. Ruth has a secret that she can't hide forever. Dora wonders if she can ever truly escape where she comes from, even when good luck strikes. Alyce is trying to reconcile her desire to dance, with the life she's always known on her family's fishing boat. Hank and his brothers decide it's safer to run away than to stay home—until one of them ends up in terrible danger.

Four very different lives are about to become entangled.
I received this ARC in exchange for an honest review. Quotes taken from ARC may or may not be in the published edition.
I was completely taken by surprise by The Smell of Other People's Houses, which I will now dub as "Smelly Houses", because I can, and I am not sorry.
I've realized over time that houses with moms in them do tend to smell better. If I close my eyes, I can just barely remember my mother's wildflowers in their whiskey bottles. The very distant scent of my parents lingers in my brain, as they laugh and twirl around the kitchen.
First glance at the cover, and it reminded me of
Station Eleven
, and of course I thought that I would be reading something similar. Luckily, I banished that thought completely, because this is not a post-apocalyptic novel.
Anyways, I think this is a really hard novel to describe. Basically, it follows a couple of characters, Ruth, Alyce, Hank, and Dora, and also features a ton of characters in the background. Ruth is pregnant with her child, Alyce is with her father fishing over the summer, but desperately wants to audition for dance, Hank is running away from his abusive father with his brothers, and Dora won a ton of money, but both of her parents are also pretty abusive. In the end, every story intertwines and meets, and it was intriguing to read.
As I said, I was impressed with the fact that I really liked Smelly Houses. Although I don't have much to say about it, unfortunately, I'm a huge sucker for books that connect everything together at the end. Which is why I loved this.
Though saying this, I do have to mention that you really have to read this all in one go. It's hard to remember what character you are on when you stop and put the book down. This wasn't really a problem in the later chapters when I figured everyone out, but in the beginning, it was bad.
Overall, I don't have much to say, other than the fact that the writing was beautiful, the story itself was short (only 240 pages! No wonder my review is so short!), and all the characters fit together nicely at the end. And that closure made me happy.