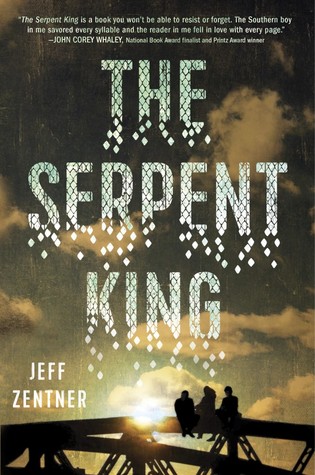 The Serpent King by Jeff Zentner
Publish
er: Crown Books for Young Readers
Release Date: March 22nd, 2016
Source: ALA Midwinter
Date Read: 3/15/16 to 3/18/16
384 pages
Dill has had to wrestle with vipers his whole life—at home, as the only son of a Pentecostal minister who urges him to handle poisonous rattlesnakes, and at school, where he faces down bullies who target him for his father's extreme faith and very public fall from grace.

He and his fellow outcast friends must try to make it through their senior year of high school without letting the small-town culture destroy their creative spirits and sense of self. Graduation will lead to new beginnings for Lydia, whose edgy fashion blog is her ticket out of their rural Tennessee town. And Travis is content where he is thanks to his obsession with an epic book series and the fangirl turning his reality into real-life fantasy.

Their diverging paths could mean the end of their friendship. But not before Dill confronts his dark legacy to attempt to find a way into the light of a future worth living.
I received this ARC in exchange for an honest review. Quotes taken from ARC may or may not be in the published edition.
Let me tell you what I found myself with after reading this book.
1. A stuffy nose
2. Red eyes
3. A damp pillow
4. A shirt covered in my own snot
Now, did you think I asked for any of that? NO. I didn't even ask for a goddamn contemporary, yet here we are. That's right, newsflash, The Serpent King is NOT fantasy, the cover lied to me.
Yes, I'm overreacting, fine. It's like on one hand, I REGRET reading this because I am SO SAD, but then I don't because this forever changed me. Forever. I didn't even know I could cry while reading contemporary YA. HOW.
And I don't even know how this book affected me so much. Like Dillard Early, the son of a pastor who is now in prison due to child pornography. Everyone blames him for the situation his father is in, saying that he's the one who downloaded the porn. But all Dill wants to do is write music and hang out with his best friends Lydia and Travis. But Lydia is busy planning to leave buttfuck nowhere with her successful fashion blog and head up to NYU for college. Travis just wants to talk to his online friend and girlfriend about his favorite fantasy series, Bloodfall.
They are really the perfect group of outcasts. And I can relate to all of them (except maybe not Dill, and I don't live in the South).
But there is a lot happening in this book. The relationship between Dill and Lydia is a little tense because for one, Lydia is LEAVING. And of course, Lydia constantly tries to convince Dill to leave as well by applying for college, which is no easy feat especially when your family is in a ton of debt. And yes, it DOES hurt when your friend has a way out and you don't, especially for Dill. And the same goes for Travis too, who has to live with his shitty, abusive father.
"I can't. I just can't. And all you're doing is making me feel worse about my life. You're telling someone in a wheelchair 'Walking is awesome. You should get up and walk'. It's not that easy"
Plus, Dill is struggling with his faith. And I can tell you right now that this book handles it perfectly There's no preaching, yet also no outright denial. Dill takes what he has learned from his faith, and interprets it in a way that applies to him and his future.
I don't know if you can tell by this review, but my emotions are everywhere. I felt A LOT for the characters. I also cried for a solid one hour after finishing. This may be the sixth book I've ever cried over in my life.
What else needs to be said? Let's see.
You definitely need to read this book. I'm sure you'll connect with Lydia (unless you're not a book blogger, though maybe you still will). And the same for Travis and his love for reading fantasy novels.
You'll probably need tissues at some point. Or not if you're heartless.
Oh, and you can thank me after you're done. Yes? Yes. You're welcome.