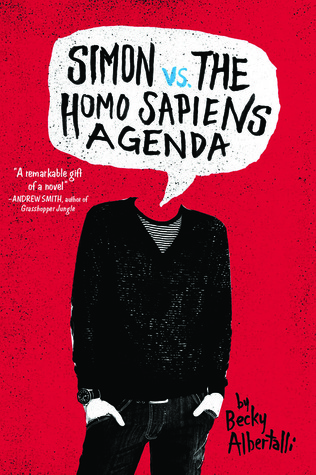 Simon vs. The Homo Sapiens Agenda by Becky Albertalli
Publisher: Balzer + Bray
Release Date: April 7th, 2015
Source: Library
Date Read: 6/30/15 to 7/1/15
303 pages
Sixteen-year-old and not-so-openly gay Simon Spier prefers to save his drama for the school musical. But when an email falls into the wrong hands, his secret is at risk of being thrust into the spotlight. Now Simon is actually being blackmailed: if he doesn't play wingman for class clown Martin, his sexual identity will become everyone's business. Worse, the privacy of Blue, the pen name of the boy he's been emailing, will be compromised.

With some messy dynamics emerging in his once tight-knit group of friends, and his email correspondence with Blue growing more flirtatious every day, Simon's junior year has suddenly gotten all kinds of complicated. Now, change-averse Simon has to find a way to step out of his comfort zone before he's pushed out—without alienating his friends, compromising himself, or fumbling a shot at happiness with the most confusing, adorable guy he's never met.
Goodreads | Amazon | B&N | Book Depository
Before I go into my review, I just want to say that this book lives up to the hype. Not only is it an incredible coming of age story, but it also ties in an intriguing plot involving a secret relationship with a mysterious boy under a pen name, Blue. (No, it does not help that all I can think about is Blue from The Raven Cycle)
Simon Spier is gay, though he's not open about it yet. After seeing a heartfelt post on the high school's "Tumblr" (those secret Tumblr blogs, you know what I mean, right?), he decides to message the user who created the post with his email, saying they should chat. And BAM that leads to tons of email exchanges, leading to friendship, and (dun dun DUN) something more. But the catch is, Simon doesn't know who Blue is. And he's starting to wonder, is it better to keep it that way, or finally meet each other?
But I'm tired of coming out. All I ever do is come out. I try not to change, but I keep changing, in all these tiny ways. I get a girlfriend. I have a beer. And every freaking time, I have to reintroduce myself to the universe all over again.
As the synopsis states, blackmail happens, and Martin appears. I don't want to reveal too much, but I just want to say that this book will make you suspect everyone. You'll constantly be wondering who Blue is, and whether it really is this one person or not. But in the end, everything will still turn out okay because 1) The emails are hilarious and full of fluff, and 2) There is a happy ending and luckily no one dies, or suffers brain trauma, or just anything tragic in general.
And I'm sure you are aware of this, but be prepared for all the oreos!
When it comes to the other side characters, well, to be honest I didn't really mind them that much, but neither did I absolutely love them. They weren't as awesome as the friend circle in
Emmy & Oliver,
but they were true enough friends with Simon. I didn't particularly like the development between [spoiler]
Abby and Nick, because why?
[spoiler], and I'm sad that [spoiler]
Leah got left out of most of it
[spoiler]. But life is life I guess. I don't really have anything to complain about.
Did I mention how cute the ending was? IT WAS PERFECT. My little heart is content.
So yes, read this book. I clearly gave it 5 stars so everyone should just follow my lead and give into peer pressure. Simon vs. The Homo Sapiens was everything I wanted and more, and I am sad that it ended because Simon and Blue are adorable.