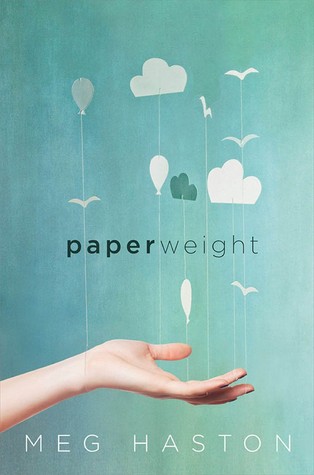 Paperweight by Meg Haston
Publisher: HarperCollins
Release Date: July 7th, 2015
Source: Edelweiss
Date Read: 7/3/15 to 7/5/15
304 pages
Seventeen-year-old Stevie is trapped. In her life. In her body. And now in an eating-disorder treatment center on the dusty outskirts of the New Mexico desert.

Life in the center is regimented and intrusive, a nightmare come true. Nurses and therapists watch Stevie at mealtime, accompany her to the bathroom, and challenge her to eat the foods she's worked so hard to avoid.

Her dad has signed her up for sixty days of treatment. But what no one knows is that Stevie doesn't plan to stay that long. There are only twenty-seven days until the anniversary of her brother Josh's death—the death she caused. And if Stevie gets her way, there are only twenty-seven days until she too will end her life.

In this emotionally haunting and beautifully written young adult debut, Meg Haston delves into the devastating impact of trauma and loss, while posing the question: Why are some consumed by their illness while others embark on a path toward recovery?
Goodreads | Amazon | B&N | Book Depository
First off. LOVE THAT COVER. And the cover does not lie, this book was well done! Though to be honest, I was an emotional wreck today concerning today's events, so I'm not quite sure whether I loved the book because it was amazing, or because I was already in the mood for an emotional read.
Stevie has been suddenly admitted to a treatment facility by her dad, who has decided that enough is enough, and that she needs to get better. However, Stevie doesn't want this, she is actually striving to continue on the course that she has set herself on, all because of the death of her brother. And for that reason, she has also decided to end her life on the anniversary of his death.
I have to admit, I didn't expect to connect with Stevie at all. But even though I don't have an eating disorder, I did understand her thought process. The greatest thing about this book is that my feelings aligned with Stevie's. At first, I felt mad and betrayed along with Stevie, but as Stevie realized that this was something she needed, then I did as well. I am not a fan of any type of authority, and for a book to change my mind, well that is monumental! Like seriously, I live to rebel, and this book changed that in me.
And interestingly enough, this book featured a LGBT relationship, even though it was more out of lust rather than love. But I was not expecting that at all. I was also not expecting a complex plot involving the death of a brother. I thought that the book would only focus on Stevie's days at the facility, but it also emphasized her past with her brother Joshua, and her "best friend" Eden.
I loved the overall message of "your disorder does not label you as an individual", and I am equally impressed with how well the therapist, Anan, was written and portrayed. It definitely had me thinking about eating disorders, and how destructive they are to individuals. It also made me realize that not everyone will speak up about someone with an eating disorder.
To be honest, I'm not sure if this will be a book for everyone, but it definitely made me tear up a bit, especially at the end. I think most might find Stevie's attitude to be a little frustrating, but I think it totally fits, especially with her past events and distrust in others.