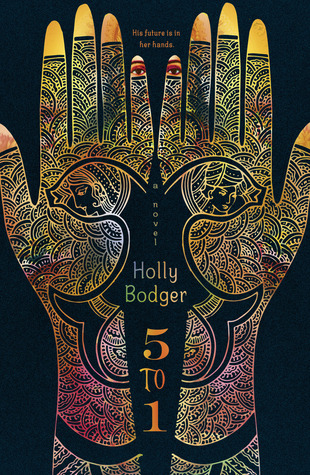 5 to 1 by Holly Bodger
Publisher: Knopf Books for Young Readers
Release Date: May 12th, 2015
Source: Library
Date Read: 7/14/15 to 7/14/15
244 pages
In the year 2054, after decades of gender selection, India now has a ratio of five boys for every girl, making women an incredibly valuable commodity. Tired of marrying off their daughters to the highest bidder and determined to finally make marriage fair, the women who form the country of Koyanagar have instituted a series of tests so that every boy has the chance to win a wife.

Sudasa doesn't want to be a wife, and Kiran, a boy forced to compete in the test to become her husband, has other plans as well. Sudasa's family wants nothing more than for their daughter to do the right thing and pick a husband who will keep her comfortable—and caged. Kiran's family wants him to escape by failing the tests. As the tests advance, Sudasa and Kiran thwart each other at every turn until they slowly realize that they just might want the same thing.

This beautiful, unique novel is told from alternating points of view—Sudasa's in verse and Kiran's in prose—allowing readers to experience both characters' pain and their brave struggle for hope.
Goodreads | Amazon | B&N | Book Depository
I know, I know. Another 3.5 star review? Yes. But hey, I really enjoyed 5 to 1, and it was interesting to say in the least. When I saw this on NetGalley, I was expecting more, more world-building, more character development, more on this world where women are treated like princesses and men are treated like dirt.
And India! (A Little Princess, because favorite movie ever)
The story starts off with Sudasa getting married off. The catch is that her suitors have to compete for her hand. Since men are considered lower than women in this world, if they don't marry and have daughters, they're deemed worthless. And their lives won't ever get better. Of course, if you're a girl, you're pretty much set. This is the new India, within India. If you are within the walls of Koyanagar, then you're part of this system.
The novel is short and sweet, but not all prose
This novel is short. The chapters also not only alternate between Sudasa's and Kiran's POV, but also between poetic verse and prose. This surprised me the most, and I have yet to figure out why Sudasa's thoughts are in verse. Is it because she's a girl and therefore deemed more elegant, or more intellectual? Who knows. Either way, it was refreshing to see the story told from both formats. I have never really read a book written in verse, and this one was very well done.
Speaking of Kiran and Sudasa, they didn't have much interaction. But the little that they had still led them to a strong connection.
The concept is interesting, but is somewhat lacking and contradictory.
So here is how Koyanagar was founded. It was the Indians of the past constantly favored boys over girls, and often casted the girls aside. As time went on, there were fewer and fewer girls, which meant less to mate with. To protect the girls, the city of Koyanagar was founded by a group of women. No on can enter or leave the city, which means everyone who entered before the door closed can't leave.
Now here is the contradictory part. Girls are valued higher than boys. Families are pressured into raising girls, because having a boy is a disgrace. But this doesn't make any sense. Wouldn't this lead to the exact problem that started this in the first place? I'm not sure if this was the author's intention, but I feel like this is a huge problem in the world-building.
5 to 1 is about the revenge of females against the males, but the message of the book is that this shouldn't be our path. Everyone deserves to be treated equally, no matter what. In 5 to 1, we clearly see that some women are so against men, which is what led to such a horrible society in the first place. So yes, in real life, the world is unfair. But that doesn't mean that we should take revenge on the ones that wronged us. It may seem like a good idea, but 5 to 1 is a reminder that it revenge may lead to something worse.
I did enjoy 5 to 1, it had a great message in gender equality, and equality in general, but I didn't end up loving the book as I wanted to. But since it's so short (only 244 pages!), I would still recommend it!